on Sunday, May 31, 2015 by
Bill Salus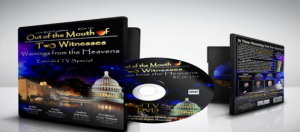 On March 9, 2015, Jonathan Cahn, Bill Salus and Mark Biltz were guests on the TBN TV special called, "End Times Praise." The show was hosted by Perry Stone and has been viewed by millions worldwide on TV and over the Internet. It is on pace to be one of the most watched TBN TV shows in their 40 years of television broadcasting.
We are excited to inform you that Cahn, Salus and Biltz are together again in a brand new TV program called "Out of the Mouth of Two Witnesses, Warnings from the Heavens." Watch this dynamic trio in our just released 4-Disc DVD package, which we are offering for a limited time at only $24.95.

These important interviews will prepare you for the powerful prophetic events that are forthcoming in the near future. The Shemitah, blood red moons and coming epic biblical Middle East wars are all discussed in these timely talks. The TV show is hosted by Tom Kerry the founder of God's Unchanging Word. The DVD TV video also includes a powerful testimony from Troy Duhon, the producer of 2015 blockbuster movie "God's Not Dead."
Click HERE now to purchase your copies of the 4-Disc DVD.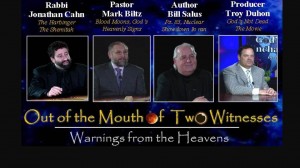 (Click image to enlarge it).
This package includes the TV show, which features individual segments with Cahn, Salus and Biltz, and their extended uncut and unseen hour-long interviews. For a sneak preview, watch the Out of the Mouth of Two Witnesses trailer below.