on Saturday, May 5, 2018 by
Bill Salus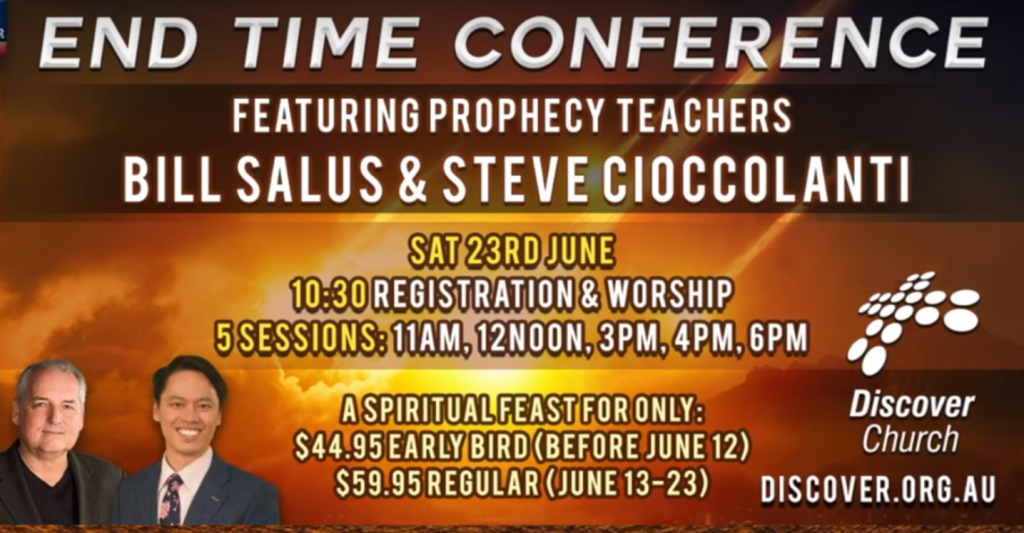 Come hear 2 powerful speakers on End Times Prophecy at The Synergy Conference!
Bill Salus is the author of "Nuclear Showdown in Iran," "Revealing the Ancient Prophecy of Elam," and "Psalm 83 The Missing Prophecy Revealed, How Israel Becomes the Next Mideast Superpower". Bill is an expert in Middle Eastern and world events. He has appeared on TBN, Daystar TV, CBN, and other Christian TV programs. See www.prophecydepotministries.net
Steve Cioccolanti is pastor of Discover Church and author of "The Divine Code from 1 to 2020" and "From Buddha to Jesus". He currently has the largest online church in Australia, with 28 million views on YouTube. 196,000 subscribers follow his Christian messages which emphasizes how to be ready for the Lord's Return. Pastor Steve is a prolific teacher of God's Word with more than 50 unique videos on Prophecy and 500 recordings on a range of Biblical topics. He is sought after internationally for clear Bible teaching on end time events. See www.About.me/stevecioccolanti
FOR MORE INFORMATION OR TO REGISTER CLICK HERE
A spiritual feast for only:
Early Bird (before June 12) $44.95 plus eventbrite fees
Regular (June 13th – 23rd) $59.95 plus eventbrite fees
Conference Schedule:
10:30 Registration & Bookshop Open
11am Bill Salus – When Are the Seals of Revelation 6 Broken?
12pm Bill Salus – Who is the Mysterious Woman in Revelation 17 & 18
1pm Lunch Break
3pm Steve Cioccolanti – The Last Move of God
4pm Bill Salus – Psalm 83 vs Ezekiel 38 Wars
5pm Prayer Time
6pm-8pm Bill Salus – The NOW vs the NEXT Prophecies