Behold, God is my helper; The Lord is with those who uphold my life. — Psalm 54:4
Become a Ministry Partner Today and receive a copy of Bill's latest DVD entitled, "PROPHETIC REVELATIONS FOR THE FINAL GENERATION," absolutely free as a token of our appreciation!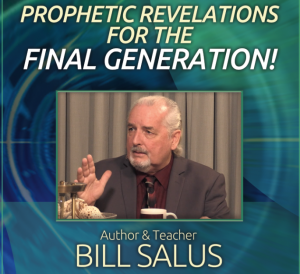 Dear friends - Greetings in the name of Jesus, our Blessed Hope!
Prophecy Depot Ministries would like to invite you to become both our friends and ministry partners. Prophecy Depot Ministries is a bible-based, pastor-oriented, Christ-centered ministry of faith, dedicated to winning the lost to a saving relationship with Jesus Christ, and to edifying the body of Christ through the accurate discernment, and skillful dissemination of Bible prophecies. We firmly believe that the testimony of Jesus is the spirit of prophecy in accordance with Revelation 19:10.
In strict adherence to this belief our staff makes a total commitment to utilize every opportunity to preach God's wonderful Prophetic Word, "with good will doing services, as to the Lord, and not to men." (Ephesians 6:7) Without requiring guarantees of any kind from the church, we live by faith, knowing that God has always and will always meet our every need.

A way that you can help...
Sometimes, pastors, churches, or individuals will express a desire to help us in the work that the Lord has called us to. And, they will question us about how they can help. Of course our greatest need is for God's people to pray for the ministry. No price tag can ever be placed upon the invaluable God blessed resource of prayer. We thoroughly acknowledge that the effective, fervent prayer of a righteous man (or woman) avails much. (James 5:16).
Moreover, we have also established a means for people to join directly in the work of Prophecy Depot Ministries that we call the "Prophecy Depot Ministry Partners Program."
For those who participate in this program by contributing at least $20 per month (some consistently give more), we enroll them into this special group that makes up the backbone of the financial and prayer support of this ministry. Without our Prophecy Depot Ministry Partners, it would be very difficult for this ministry to stay afloat. Certainly, God would have to provide other means to keep the work going. So, it cannot be over stressed. The Prophecy Depot Ministry Partners are the main support that God has used to supply the needs of this ministry!
To keep our partners attune to what the Lord is doing through Prophecy Depot Ministries, we issue regularly emailed newsletters that often include Bill Salus articles, recent media programs, teaching videos, and latest product offerings, (which we offer to Prophecy Depot Ministry Partners at discounted rates).
Presently we are offering to all new Prophecy Depot Ministry Partners a free DVD called, "PROPHETIC REVELATIONS FOR THE FINAL GENERATION." This is Bill's latest DVD and it is an up close and personal interview between Gary Stearman and Bill Salus that explains how the sure word of Bible prophecy is more important now than ever.
If you feel that the Lord is leading you to join the Prophecy Depot Ministry Partners Program, please send your gift to the address below, or visit our contact page to learn how to donate through PayPal online. You can also call us at the phone number below.
Prophecy Depot Ministries is an approved 501c3 non-profit ministry so all your offerings are tax-deductible..
Mail your check to:

Prophecy Depot Ministries
P.O. BOX 5612
LA QUINTA, CA 92248
714-376-5487
Or make a Monthly Online contribution:
Or make a One-time Online contribution: