SUMMER SPECIAL! Psalm 83 and Nuclear Showdown books bundle package for only $9.99. U SAVE $21.00! CLICK HERE TO GET THIS INCREDIBLE DEAL!
NEW FEATURE - PROPHECY HEADLINES (prophecyheadlines.com) for Breaking News Headlines


Sunday May 1, 2016 by Bill Salus

Our website just got a whole lot more interesting and active with our recent addition of PROPHECY HEADLINES. STAY APPRISED OF CURRENT EVENTS WITH PROPHECY HEADLINES, the BIBLE NEWSPAPER "examining current events through the prophetic lens." KEEP UPDATED WITH TODAY'S BREAKING NEWS HEADLINES! Bookmark this important prophecy related news sight at www.prophecyheadlines.com[…]



Latest Articles and Media Interviews
BREXIT: The Biblical Perspective for the UK, US and EU
On June 23, 2016, the United Kingdom voted to end 43 years of European Union membership. Immediately, Britain's exit created global shockwaves! This timely article explains the biblical implications of Brexit for the UK, USA and EU. It also explains how Brexit supports the revival of the Roman Empire in Bible prophecy. This article also explores how Brexit actually argues against the Islamic Antichrist theory.[…]
New Prophecy Theory: Russia to Invade the USA, UK and Saudis!
I was shocked to hear that author Douglas Woodward has formulated a new prophetic theory! Woodward believes that the Lord has revealed to him that Russia is going to invade America, the United Kingdom and Saudi Arabia as per Ezekiel 38:10-13! This article debunks this new Woodward theory and provides the commonly taught interpretation of Ezekiel 38:10-13.[…]
GOD'S MIDDLE EAST PEACE PLAN
The reasons for the failures of the international community to accomplish a lasting Mideast peace are actually quite simple to understand and explain. The simple explanation is that the only successful method to achieve this illusive peace is to follow the blueprint model provided in the Holy Scriptures. This Bill Salus article explains the Bible's Mideast peace plan in Jeremiah 12:14-17. It also warns why the Arab states surrounding Israel are in jeopardy of being destroyed.[…]
Is Israel Preparing for War Soon?
With the recent appointment of Avigdor Lieberman to the post of Israeli Defense Minister, Israel is now in a position to engage in a Mideast war if necessary. Prime Minister Netanyahu and his new Defense Minister Lieberman represent the type of conservative leadership that won't buckle under international pressures to divide the land of Israel. This article explains why the French peace plan is doomed to fail and it identifies the menu of many reasons that Israel could be preparing to go to war in the Middle East![…]
The Biblical Indictment of America (Video)
SHOULD AMERICANS STOP PRAYING for the USA, which has now crossed every forbidden biblical boundary? Jeremiah 7:16, 11:14 and 14:11 points out that a wicked nation can reach a point where the Lord will no longer listen to the prayers of its people. Over the past 6 decades America has forsaken God and now the nation has been given over to sexual perversion, homosexuality and moral depravity! Prophecy Watchers TV interviews Bill Salus about his BIBLICAL INDICTMENT OF AMERICA. Gary Stearman and Bill Salus expose the true America that is poised to go from judgment to destruction.[…]
The Biblical Indictment of America (Article)
Read Jeremiah 7:16 and then ask yourself, "If Jeremiah the prophet was an American today would he say this?" "Therefore do not pray for Americans, nor lift up a cry or prayer for them, nor make intercession to Me (The Lord); for I will not hear you. Do you not see the forbidden biblical boundaries their Supreme Court has crossed over in the city of Washington D.C., the sale of aborted baby body parts by Planned Parenthood of the Pacific Southwest, and the LGBT Gay Pride Parades in the streets of San Francisco and San Diego?"[…]
Introducing Bill's New Book: The NOW Prophecies
Welcome to the introduction of my newest book and DVD project entitled, The NOW Prophecies. The book is now available for PRE-ORDERS. The DVD is already available. To read chapter one of the book and to find out more information about the book, click the blue title link above.[…]
THE NOW PROPHECIES
God's word to Noah was to prepare NOW for a worldwide flood. God's word to Joseph was to prepare Pharaoh and Egypt NOW for seven years of famine. God's word to Jeremiah was to prepare the Jews NOW for seventy years of exile into Babylon. The key word in these historical examples was NOW! What does God's Word say for us to prepare for NOW? What are the tough decisions we need to make?

The NOW Prophecies book identifies the biblical prophecies that were written centuries ago for THIS GENERATION! These ancient inscriptions predict powerful events that will profoundly affect everyone. This book makes it easy to understand how to get ready NOW for what to expect in the near future!
Purchase your copy for only $15.95 plus shipping & handling. Click Here
Bill Salus Latest TV and Radio Broadcasts
The Coming Global Transformation (Stearman & Salus on TV)

In this timely television show Gary Stearman and Bill Salus introduce THE COMING GLOBAL TRANSFORMATION. This audio drama tackles coming distressing global developments head-on by examining specific, ancient prophecies describing the last days and actual recent news reports and events that indicate a global transformation is looming.[…]

Pastor Bill Preaches on the URGENCY of NOW!


on Wednesday, May 31, 2016 by Bill Salus

Normally Bill Salus focuses primarily upon exploring and explaining end times Bible prophecies, but in this radio show he combines preaching and prophecy teaching. Bill Salus is an ordained minister through Calvary Chapel. The radio show host, Mars Hoffman, turns Bill loose to preach the message on his mind. This show is about the urgency of the hour![…]

Now Prophecies on AM 980 Talk Show Radio

Listen to Bill Salus on AM 980, the "ON THE WAY" radio show with host Paul Ridgeway. Paul asks Bill about the NOW Prophecies to be on the lookout for at the present time. A few callers phoned in and asked Bill some questions. A couple of the questions were; (1) Do you think Supernatural evangelism is ramping up? (2) What makes you think that you are an authority or an expert on Bible prophecy?[…]

Prophecy in the NOW'S; Televising the ones for YOU!

Is the time for mere table talk about Bible prophecies over? Are several prophecies about ready to happen NOW, at the present time? Prophecy in the News TV interviews Bill Salus in three TV shows about his new bestselling book entitled, The NOW Prophecies. Watch all three programs on this website.[…]

Is the Decline of ISLAM a NOW Prophecy?


on Wednesday, April 13, 2016 by Bill Salus

Acceleration TV host, LA Marzulli, interviews Bill Salus about the role of Islam in Bible Prophecy. Marzulli asks Bill to talk about the Shia Crescent, the coming Islamic Mahdi and more. Bill explains how the decline of Islam is coming and commences with the fulfillment of the Now Prophecies concerning Damascus in Isaiah 17 and Iran (Elam) in Jeremiah 49.[…]

Bill Salus TV Teachings & Interviews (Frequently Updated)


on Saturday, February 20, 2016 by Bill Salus

The teachings of Bill Salus have been featured on many popular Christian TV networks internationally, like TBN, CBN, and Daystar to name a few. You can watch these TV teachings and interviews at this link. […]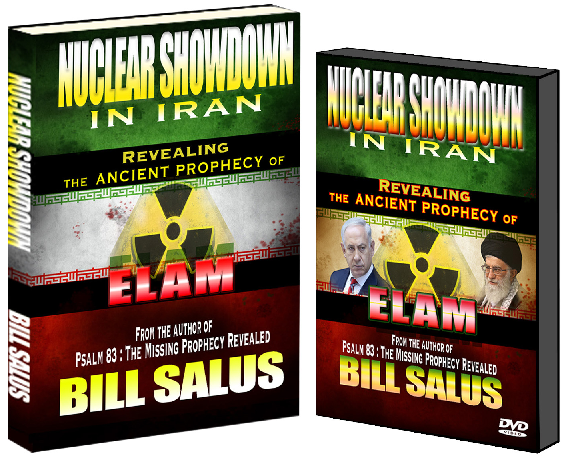 Nuclear Showdown in Iran, The Ancient Prophecy of Elam
Missiles cloud Mideast skies over the Persian Gulf. Iran shuts down the Strait of Hormuz. Arab oil is choked off to world markets. Hezbollah and Hamas launch scores of missiles into Israel. Terror cells initiate cycles of violence in America. Global economies begin to collapse.
Radioactivity permeates the skies over Bushehr's nuclear reactor. Countless Iranian's hastily seek refuge into neighboring nations. The Arabian Gulf becomes a cesspool of contamination. Desalinization plants can't process the polluted waters. A humanitarian crisis burgeons out of control. A disaster of epic biblical proportion has finally arrived in the Middle East!
About 2600 years ago the Hebrew prophets Jeremiah and Ezekiel issued parallel end times prophecies concerning modern-day Iran. Today the rogue country is becoming a nuclear nation and aggressively advancing its hegemony throughout the greater Middle East.
Nuclear Showdown in Iran, The Ancient Prophecy of Elam is a non-fiction thriller taking the reader on a journey of discovery through the eyes of the prophets and the minds of today's key national players.Can anything good come from the evil that is about to befall us? The ancient prophecy of Elam will reveal what God has ordained, what the prophets saw and what you need to know and do now.
Buy the Nuclear Showdown book or DVD Click Here
Featured Articles
See "Latest Articles and Media Interviews" above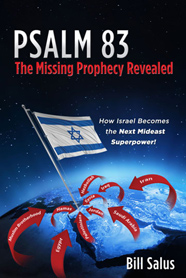 PSALM 83, The Missing Prophecy Revealed ? How Israel Becomes the Next Mideast Superpower"
An ancient prophecy written over 3000 years ago reveals that the Arab states and terrorist populations, which presently share common borders with Israel, will soon confederate in order to wipe Israel off of the map. These enemies of Israel are depicted on the red arrows upon the book cover image, and their mandate is clear:

They have said, "Come, and let us cut them off from being a nation, That the name of Israel may be remembered no more." (Psalm 83:4).

Psalm 83 predicts a climactic, concluding Arab-Israeli war that has eluded the discernment of today's top Bible scholars, and yet, the Middle East stage appears to be set for the fulfillment of this prophecy. While many of today's top Bible experts are predicting that Russia, Iran, Turkey, Libya, and several other countries are going to invade Israel according a prophecy in Ezekiel 38, this timely book explains how Psalm 83 occurs prior. Discover how Israel defeats their ancient Arab enemies, and why Americans need to stand beside Israel in this coming war!

Order Psalm 83 Today. Purchase your copy for only $15.99, or become a ministry partner and receive a free copy.

Click to read the introduction with the endorsements. Click to become a Prophecy Depot Ministry Partner.
Upcoming Events
May 21-27, 2016 Bill PWTV Warning to Americans
Watch the Prophecy Watchers TV (PWTV) show the week of May 21-27, 2016. The show airs on the Church Channel and many other Christian TV shows. Bill Salus warns Americans about impending judgment. Click the blue title link above to get PWTV's programming schedule.[…]
June 17-19 Pike's Peak Prophecy in the News Conference
COME JOIN BILL SALUS, GARY STEARMAN, CHUCK MISSLER, BILL KOENIG, LA MARZULLI, RANDALL PRICE AND MANY OTHER TOP BIBLE PROPHECY TEACHERS IN PIKE'S PEAK, COLORADO. The conference is hosted by PROPHECY WATCHERS TV.[…]
July 15-17 Rocky Mountain International Prophecy Conference
COME JOIN BILL SALUS, PAUL McGUIRE, DON PERKINS, DR. THOMAS ICE AND MANY OTHER TOP BIBLE PROPHECY TEACHERS IN PIKE'S PEAK, COLORADO. The conference is hosted by PROPHECY IN THE NEWS.[…]