VISIT OUR DAILY NEWSSTAND AT PROPHECY HEADLINES.COM
It's the Bible Newspaper that examines current events through the prophetic lens. Click the image to visit our news site.
Click on the image below for details... A spiritual feast for only $59.95 Conference Schedule (Melbourne, Australia time)
11am Bill Salus - When Are the Seals of Revelation 6 Broken?
12pm Bill Salus - Who is the Mysterious Woman in Revelation 17 & 18 3pm Steve Cioccolanti - The Last Move of God 4pm Bill Salus - Psalm 83 vs Ezekiel 38 Wars 6pm Bill Salus - The NOW vs the NEXT Prophecies
THE FUTURES FOR ISRAEL IRAN AND THE ARAB STATES

There are many other prophecies concerning the Arabs and Iranians that could find fulfillment prior to Ezekiel 38. Are you familiar with the potential nuclear prophecy of Iran that precedes Ezekiel 38, which is described in Jeremiah 49:34-39? Does Iran's nuclear program get destroyed before Ezekiel 38 as a result of this Jeremiah prophecy? What about the apparent reference to the destruction of the Palestinians and Hamas in Ezekiel 25:12-17? How about the toppling of Jordan? Some people say that Jordan's peace agreement with Israel evidences that Psalm 83 has already found fulfillment. However, in Jeremiah 49:2 and Zephaniah 2:8-9 Jordan is defeated in a war by the IDF. These Jordanian related prophecies predict that Israel will take over substantial territories within Jordan, which means that they have not found fulfillment yet. Also, who are the surrounding Arab countries that get wiped out by the IDF in Zechariah 12:4-6? Watch this teaching video to learn more.

Is Iran in Psalm 83 & Ezekiel 38? How will Trump's Mideast Peace Plan Align with God's?

Paul Begley interviews Bill Salus about the Bible prophecies to be watching for NOW! WHAT DOES JEREMIAH 49 SAY ABOUT DAMASCUS & IRAN (ELAM)? How Will Donald Trump's Mideast Peace Plan align with God's plan in Jeremiah 12:14-17? Or, does it? Show includes lots of maps and images.

THE MARSALUS REPORT for May 23, 2018

How does God's Mideast peace plan in Jeremiah 12:14-17 compare to Trump's upcoming peace plan? Will Iran ignore America's 12 warnings and punch Sec'y of State Pompeo in the mouth? Can Iran create more chaos to hasten the coming of the Islamic Mahdi? Will Iran blow up the US Embassy in Jerusalem? Is Hamas behind the border protests? LA Marzulli and Bill Salus present prophetic food for thought topped with their Marsalus sauce.

BILL SALUS and PASTOR BILLY CRONE at the FUTURE HOPE CONFERENCE

Future Hope Conference is on this June 28-30, and the line up of speakers is world class. We have bestselling author and conference speaker, Bill Salus as well as international prophecy teacher and documentary producer Billy Crone. Prophecy expert Pastor Chris Twinn is back along with practical prophecy teacher, Pastor Joshua Pellowe. Be sure to join us for 3 days of teaching and practical insight into Bible prophecy, the last days Church and the days that we are living in. Register now at futurehopeconference.com... Live Streaming is available for $50.00 at this link: https://www.futurehopeconference.com/events-1/future-hope-18

Latest Articles and Media Interviews
Who are the "Hidden Ones" of Psalm 83? (article and Video)
Question: "I have a question concerning Psalm 83:3 and its link with Isaiah 26:20. The last section of the Psalm verse reads, "and consulted against thy hidden ones," and Isaiah explains who these are that are hiding. I understand these passages refer to the Saints/Church. That being the case would not the inference in the psalm be that the Church has already been taken before the fulfillment of that prophecy? In this article and video Bill Salus answers this question.[…]
Trump Withdraws, Iran Enriches, and Christian Leaders Warn Iranians of Ancient Catastrophic Prediction!
The weekend before US President Donald Trump withdrew from the JCPOA, millions of Iranians were warned to prepare for a coming nuclear disaster! On May 5, 2018, on the TV show called the "SEVEN," Dr. Hormoz Shariat, the Billy Graham of Iran, and Bible prophecy expert Bill Salus alerted millions of Iranians about an ancient biblical prediction of GREAT CONCERN![…]
God is Still in the Miracle Business – The Supernatural Testimony of Bill Salus (Article & Audio)
Most Christian testimonies begin by explaining how the Lord miraculously saved them out of their sin; how He delivered them out of darkness and brought them into His marvelous light. My testimony is similar and you can listen to it at this link. However, my testimony doesn't stop at my salvation. It has a second chapter, which began after I became a believer and it shows how the paranormal has become my new normal and how the supernatural is the natural when it deals with the things pertaining to God.[…]
Is Amir Tsarfati Correct About the Timing of Ezekiel 38? (Video & Article)
Is Israel dwelling securely without walls, bars or gates as it is predicted in Ezekiel 38:7-12? Tsarfati believes Israel is safer now than ever before. He says the next major Mideast Bible prophecy to be watching for is described in Ezekiel 38. He boldly declares that the Psalm 83 prophecy has already found fulfillment. Bill Salus challenged him to debate this matter, but Tsarfati respectfully declined. In Tsarfati's, "Calm Before the Storm" video, he makes several statements about the timing of the Psalm 83 and Ezekiel 38 prophecies. In this article Bill Salus presents and comments upon some of Tsarfati's quotes.[…]
IRAN is in Ezekiel 38, but why NOT their PROXIES? Why are Syria, Hezbollah, Hamas and the Houthis MISSING IN ACTION? (Article)
The focus of this article is the identification of WHO IS and WHO IS NOT, part of Ezekiel 38-39. Having identified WHO IS part of the action in Ezekiel 38-39, now let's observe who appears to be MISSING IN ACTION (MIA). The focus is on Iran and its present proxies, who are, Hezbollah, Syria, Hamas and the Houthis.[…]
Nuclear Iran: Are Ezekiel 38 (Persia) and Jeremiah 49 (Elam) the Same Prophecy? (Article)
According to a long forgotten prophecy that is recently being rediscovered, Iran appears to be the subject of two differing end time's prophecies. One prophecy is described in Jeremiah 49:34-39 concerning ancient Elam, and the other is in Ezekiel 38 regarding Persia. This article denotes the differences between Jeremiah 49:34-39 and Ezekiel 38 and 39. Several of these dissimilarities are substantial, which suggests that Jeremiah and Ezekiel are not describing the same event.[…]
Understanding God's Longsuffering in the Last Days (Article)
The reality that a believer must soon come to grips with is that the Lord is presently in the longsuffering condition but will someday shift His focus to the fury mode. Vengeance is the Lord's privilege as the Divine Creator and as per Deuteronomy 32:35 and elsewhere. There are numerous unfulfilled biblical prophecies that forecast severe judgments are forthcoming upon various nations. These judgments come because the Lord is furious with those specific nations. This means that at some point in the future, the Lord says, "I have had enough!"[…]
The Two Judgments of End Times Babylon (Article)
There are two end times judgments of Babylon in the book of Revelation. Revelation 17:16 makes an end of the Harlot's world religion and Revelation 18:8-10 terminates the global economy. WHAT IS THE CHRONOLOGICAL ORDER OF REV. 13, 17, & 18? Many people read and interpret the book of Revelation in strict chronological order. They believe that the events of Rev. 13 occur prior to Rev. 17. Others believe that Rev. 17 and 18 describe the same judgment events against Babylon. However, the actual order of events makes most sense when these chapters are rearranged as Rev. 17, then Rev. 13, then Rev. 18. This sequencing illustrates that Rev. 17 and Rev. 18 are describing two different events with Rev. 13 inserted in-between.[…]
Revealing the Ancient Mystery of the Missing Time-Gap – (The Post-Rapture/Pre-Tribulation Thesis) (Important New Theological Article)
Discover how the REVEALING of the ANCIENT MYSTERY of the MISSING TIME-GAP unlocks the Pre-Tribulation timing of the: Rapture, Four Horsemen of the Apocalypse, The Harlot World Religion of Mystery Babylon, Persecution of the Fifth Seal Saints, Decline of Islam, True Content of the False Covenant that starts the Seven-Year Tribulation Period. Bill Salus shares his incredible dissertation online. If you thought his revelatory discoveries on Psalm 83 and Jeremiah 49 were amazing, you will be equally impressed by his latest revelations.[…]
New Apocalypse Road DVD
NOW AVAILABLE: We have just released the Apocalypse Road DVD.
This single disc DVD includes 100 minutes of revelatory teachings taken directly from the book. The topics explored on the DVD include:

•The Pre-Tribulation Rapture
•Introducing the Time-Gap between the Rapture and the 7-Year Tribulation period. (The Post-Rapture / Pre-Tribulation Gap)
•Greater Israel after the prophetic wars of Psalm 83 and Ezekiel 38
•Why Mystery Babylon is Roman Catholicism and not Islam
•The Tribulation covenant between Israel and the Catholic Church
•The identity of the 4 Horsemen of the Apocalypse
•The Pre-Tribulation timing of the first 5 Seal Judgments
•The 3 groups of martyred Christians after the Rapture
•WHY PEOPLE NEED TO GET SAVED NOW

Click Here to buy the Apocalypse Road DVD for $15.95 plus S & H
Click Here to buy the Apocalypse Road book and DVD for $33.95 plus S & H
Click Here to buy Revelation Road, Apocalypse Road and the DVD for $49.95 plus S & H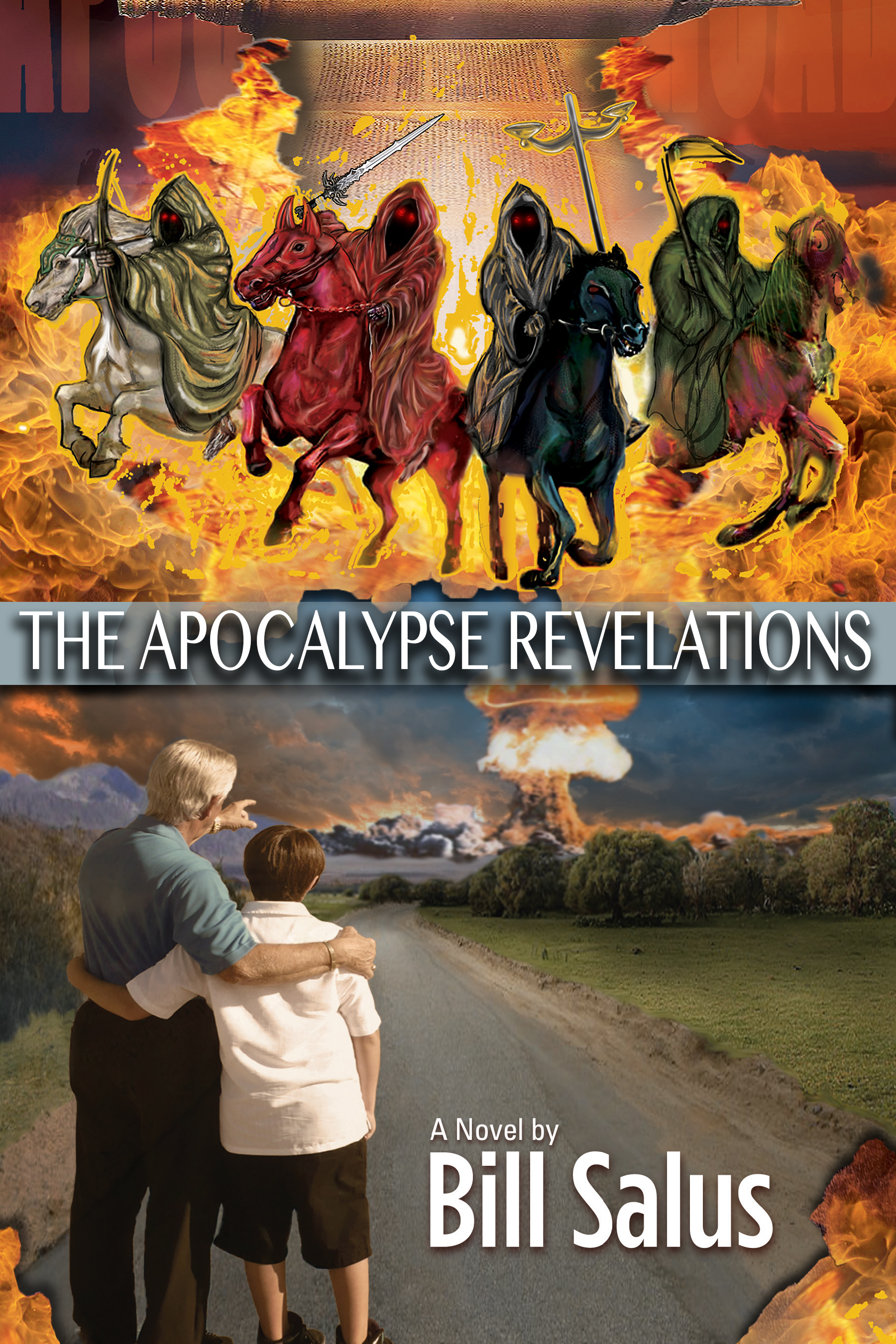 The Apocalypse Revelations on Kindle for only $2.99
Bill Salus has recently produced a new novel called THE APOCALYPSE REVELATIONS.

The modern world has been thrust into chaos and uncertainty. Millions of Christians disappeared, apparitions of the Virgin Mary have reappeared, meanwhile the Antichrist begins his beastly career. The apocalypse has finally arrived! Take an end times journey with an American and Israeli family as they experience the ancient biblical predictions roll off their parchments and pound onto the pavement packing a powerful global punch. Will the Thompson's survive this perilous apocalyptic period?

George and Mimi Thompson believe their grandson Tyler lives in the final generation. Lovingly, they prepare the child for life after the destruction of Damascus, the nuclear disaster in Iran, the final Arab-Israeli war of Psalm 83, the Russian led invasion into Israel of Ezekiel 38, nuclear terrorism in America, and the coming world religion and global government of Mystery Babylon.

The Apocalypse Revelations chronologically orders the events that takes you through the Church Age and beyond into the time-gap period that follows. Experience the End Times through the eyes of the Thompson family, and discover how their gripping story uncovers the silver lining of hope against the backdrop of global gloom and doom... Their family tale could soon become your reality!

This book is a merger of the novel sections in Revelation Road and Apocalypse Road. These two books combined a novel with a biblical commentary. Now you can read the novels only!
Click Here to buy the Kindle book.
Bill Salus Latest TV and Radio Broadcasts
Bill Salus on XZONE Radio in Canada

LISTEN TO BILL SALUS DISCUSS END TIME'S BIBLICAL PROPHECY ON CANADA'S XZONE RADIO WITH ROB McCONNELL.[…]

PSALM 83 NOW! EZEKIEL 38 NEXT?

In this Prophecy Watchers TV show Psalm 83 prophecy is explored and explained. The timing of Psalm 83 is presented as a precursor to the Ezekiel 38 Gog of Magog prophecy. Also included, is a short Middle East update video.[…]

Bill Salus & Joel Richardson Discuss Mystery Babylon!

On this installment of "A Minute to Midnite," host Tony Koretz is joined by best selling authors Joel Richardson and Bill Salus. What ensues is a riveting discussion on the identity of Mystery Babylon. The show features the historic debate between Bill and Joel on the DVD entitled, THE IDENTITY OF MYSTERY BABYLON: MECCA OR ROME? This show is produced with many images that are guaranteed to keep the audience glued to the program.[…]

VIDEO: Jerusalem Embassy Fallout

IS GOD MAKING A MIDDLE EAST STATEMENT THROUGH AMERICA? On December 6, 2017, US President Donald Trump acknowledged Jerusalem as Israel's capital city. What will be the fallout from that decision? Gary Stearman of Prophecy Watchers TV interviews Bill Salus about the Geo-political and prophetic implications of President Trump's decision. Bill explains how the international community has meddled in the affairs of Jerusalem for the past 70-years, but the time may have come where the Lord will intervene and settle the matter about the biblical status of Jerusalem. If so, the ramifications could be staggering! Zechariah 12:1-6 gets explained as a Now Prophecy in this timely discussion.[…]

Will 2018 Be a Prophetic Year?

Southwest Radio interviews Bill Salus in a 2-part program to discuss the prophecies that he believes could happen NOW in the NEW YEAR.[…]

Exploring the Similarities Between IRAN and the Ancient Prophecy of ELAM (Short TV Clip)

What is the future for a nuclear Iran? Does the Bible predict a nuclear disaster in this rogue Islamic state? In this short 6-minute interview, which was broadcast on the FOX Network in Oklahoma, Bill Salus and Larry Spargimino explore the striking similarities between Iran's present nuclear program and the ancient Bible prophecy about Elam. The prophet Jeremiah predicted that the territory of Elam, which is in Iran today, would experience a disaster. It appears to be a nuclear disaster and a prophecy that could find fulfillment NOW![…]

THE IMPORTANCE OF BIBLE PROPHECY RIGHT NOW! (Short TV Clip)

2018 could prove to be a very prophetic year. This short 6 minute news clip features Larry Spargimino of Southwest Radio Church interviewing Bill Salus about the importance of Bible prophecy and what predictions could happen RIGHT NOW! This show aired on the FOX NETWORK in 2017.[…]

The PRE-GAP Rapture! New Theory About the Timing of the Rapture

Pre, Mid and Post-Tribbers now have a new view to consider. It's the Pre-Gap Rapture. Bill Salus explains how the Church gets Raptured immediately before the Post-Rapture / Pre-Tribulation Gap happens. Find out why many Pre-Trib Rapture believers are destined to change their view to a Pre-Gap Rapture.[…]

Bill Salus TV Teachings & Interviews (Frequently Updated)


on Saturday, February 20, 2016 by Bill Salus

The teachings of Bill Salus have been featured on many popular Christian TV networks internationally, like TBN, CBN, and Daystar to name a few. You can watch these TV teachings and interviews at this link. […]



NEW DVD NOW AVAILABLE! THE IDENTITY OF MYSTERY BABYLON: MECCA OR ROME?
Join two world class prophecy teachers Joel Richardson and Bill Salus in a historic debate. Where is "THE GREAT HARLOT" city of Revelation 17-18? Is it Mecca or Rome? Should prophecy watchers look to the central city of Islam in the heart of Saudi Arabia or to the capital of Roman Catholicism in Italy? Will Satan use Islam as the foundation for his final great deception or will continued apparitions of the Queen of Heaven and Roman Catholic Eucharistic miracles be used to lead people astray? Answers to these and many more questions are provided in this timely and enlightening 3-hour debate.

MYSTERY BABYLON BONUS OFFER – For a limited time, buy the DVD on sale below for $12.95. Normally sells for $19.95.

Purchase your copy for only $12.95 plus shipping & handling. Click Here



THE NOW PROPHECIES

God's word to Noah was to prepare NOW for a worldwide flood. God's word to Joseph was to prepare Pharaoh and Egypt NOW for seven years of famine. God's word to Jeremiah was to prepare the Jews NOW for seventy years of exile into Babylon. The key word in these historical examples was NOW! What does God's Word say for us to prepare for NOW? What are the tough decisions we need to make?

The NOW Prophecies book identifies the biblical prophecies that were written centuries ago for THIS GENERATION! These ancient inscriptions predict powerful events that will profoundly affect everyone. This book makes it easy to understand how to get ready NOW for what to expect in the near future!

Purchase your copy for only $15.95 plus shipping & handling. Click Here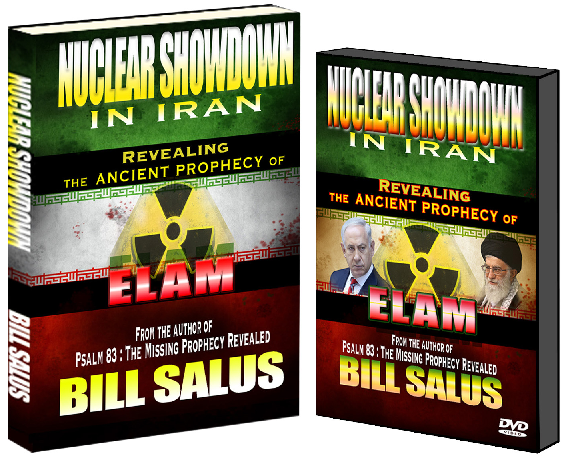 Nuclear Showdown in Iran, The Ancient Prophecy of Elam
Missiles cloud Mideast skies over the Persian Gulf. Iran shuts down the Strait of Hormuz. Arab oil is choked off to world markets. Hezbollah and Hamas launch scores of missiles into Israel. Terror cells initiate cycles of violence in America. Global economies begin to collapse.
Radioactivity permeates the skies over Bushehr's nuclear reactor. Countless Iranian's hastily seek refuge into neighboring nations. The Arabian Gulf becomes a cesspool of contamination. Desalinization plants can't process the polluted waters. A humanitarian crisis burgeons out of control. A disaster of epic biblical proportion has finally arrived in the Middle East!
About 2600 years ago the Hebrew prophets Jeremiah and Ezekiel issued parallel end times prophecies concerning modern-day Iran. Today the rogue country is becoming a nuclear nation and aggressively advancing its hegemony throughout the greater Middle East.
Nuclear Showdown in Iran, The Ancient Prophecy of Elam is a non-fiction thriller taking the reader on a journey of discovery through the eyes of the prophets and the minds of today's key national players.Can anything good come from the evil that is about to befall us? The ancient prophecy of Elam will reveal what God has ordained, what the prophets saw and what you need to know and do now.
Buy the Nuclear Showdown book or DVD Click Here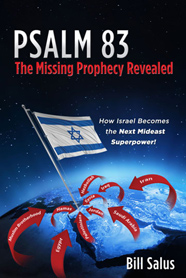 PSALM 83, The Missing Prophecy Revealed ? How Israel Becomes the Next Mideast Superpower"
An ancient prophecy written over 3000 years ago reveals that the Arab states and terrorist populations, which presently share common borders with Israel, will soon confederate in order to wipe Israel off of the map. These enemies of Israel are depicted on the red arrows upon the book cover image, and their mandate is clear:

They have said, "Come, and let us cut them off from being a nation, That the name of Israel may be remembered no more." (Psalm 83:4).

Psalm 83 predicts a climactic, concluding Arab-Israeli war that has eluded the discernment of today's top Bible scholars, and yet, the Middle East stage appears to be set for the fulfillment of this prophecy. While many of today's top Bible experts are predicting that Russia, Iran, Turkey, Libya, and several other countries are going to invade Israel according a prophecy in Ezekiel 38, this timely book explains how Psalm 83 occurs prior. Discover how Israel defeats their ancient Arab enemies, and why Americans need to stand beside Israel in this coming war!

Order Psalm 83 Today. Purchase your copy for only $15.99, or become a ministry partner and receive a free copy.

Click to read the introduction with the endorsements. Click to become a Prophecy Depot Ministry Partner.
Upcoming Events
Late Sunday Night, Which is June 4, 2018 Salus on Coast to Coast Radio: 12:00-2:00 am (PST)
On Late night Sunday, wh,ich is actually on June 4, 2018, Bill Salus will be interviewed between 12:00-2:00 am (PST) on the nationally syndicated talk radio show called, Coast to Coast. Click the blue link for more information and to see the list of possible questions and topics that could be discussed.[…]
June 24, 2018 Prophecy in the Land Down Under-Melbourne, Australia
Come hear Bill Salus at Calvary Melbourne on June 24, 2018. Bill will be teaching on topic of biblical prophecy.[…]
June 23, 2018 End Time Synergy Conference – Melbourne, Australia
Come hear 2 powerful speakers on End Times Prophecy at The Synergy Conference! Bill Salus is the author of "Nuclear Showdown in Iran," "Revealing the Ancient Prophecy of Elam," and "Psalm 83 The Missing Prophecy Revealed, How Israel Becomes the Next Mideast Superpower". Bill is an expert in Middle Eastern and world events. He has appeared on TBN, Daystar TV, CBN, and other Christian TV programs. Steve Cioccolanti is pastor of Discover Church and author of "The Divine Code from 1 to 2020" and "From Buddha to Jesus". He currently has the largest online church in Australia, with 28 million views on YouTube.[…]
June 28-30, 2018, Future Hope Conference: Bill Salus & Billy Crone speak in Brisbane, Australia
June 22-July 3, 2018, Bill Salus and Pastor Billy Crone speak in Brisbane Australia.[…]
July 15, 2018, Bill Salus at Rock Harbor Church in Bakersfield, California
Bill Salus will be speaking at Rock Harbor Church on July 15, 2018 in Bakersfield, California. The topic will be, Nuclear Showdown in Iran, Revealing the Ancient Prophecy of Elam.[…]
August 5, 12, 19, 26, 2018 Prophecy at the Pass – Grants Pass, OR
Enjoy another summer of Bible Prophecy teachings with Bill Salus at Calvary Chapel Grants Pass, Oregon. Every Sunday night at 6:00 p.m. Bill Salus will presenting a Bible Prophecy message.[…]
Oct. 12-14 2nd Annual Blessed Hope Conference in Norman, Oklahoma
Bill Salus will be joining Dr. David Reagan, Gary Stearman, Jan Markell, Bill Koenig, LA Marzulli and many more at the 2nd annual Blessed Hope Conference, which is hosted by Prophecy Watchers TV Ministries.[…]