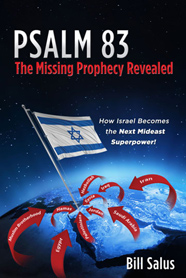 Psalm 83 The Missing Prophecy Revealed
An ancient prophecy written over 3000 years ago reveals that the Arab states and terrorist populations, which presently share common borders with Israel, will soon confederate in order to wipe Israel off of the map. These enemies of Israel are depicted on the red arrows upon the book cover image, and their mandate is clear:

They have said, "Come, and let us cut them off from being a nation, That the name of Israel may be remembered no more." (Psalm 83:4).

Psalm 83 predicts a climactic, concluding Arab-Israeli war that has eluded the discernment of today's top Bible scholars, and yet, the Middle East stage appears to be set for the fulfillment of this prophecy. While many of today's top Bible experts are predicting that Russia, Iran, Turkey, Libya, and several other countries are going to invade Israel according a prophecy in Ezekiel 38, this timely book explains how Psalm 83 occurs prior. Discover how Israel defeats their ancient Arab enemies, and why Americans need to stand beside Israel in this coming war!

ORDER BILL'S NEW BOOK TODAY. Purchase your copy for only $15.99, or become a ministry partner and receive a free copy.

Click to read the introduction with the endorsements. Click to become a Prophecy Depot Ministry Partner.
Latest Articles
Jesus Today; Before the Blood Moons & Day of the Lord!
on Monday, April 14, 2014 by Bill Salus

Do the coming blood moons signal the imminent return of Jesus Christ for His Church? The Rapture is a sign-less event, but the blood moons are appearing on heaven's billboards and the world stage is set for Christ's return to fetch His Christian Bride. Real Life TV, hosted by Pastor Jack Hibbs, interviews Bill Salus […]

Blood Moons: Signs in the Heavens


on Friday, April 11, 2014 by Bill Salus

What is this burgeoning craze about the coming four "blood moons," and do they convey a prophetic message for mankind? This article was written for the April, 2014 Koinonia House Newsletter. Chuck Missler is the founder of Koinonia House. Roll… Camera… Action! It was Friday night, November 1, 2013 when I found myself sitting on […]

Watch Bill Salus on the "Marcus & Joni" Daystar TV Show


on Monday, March 31, 2014 by Bill Salus

On April 1, 2014 Bill Salus appeared on Daystar TV for the "Marcus & Joni" Show. During the interview Bill had scarcely introduced the Arab-Israeli war prophesied in Psalm 83, when Marcus began asking about Israel' nuclear weapons program. From there the show spun off into a combination history, prophecy and geo-political conversation. Marcus was […]
Latest Radio Broadcasts
Decoding the End Times: Psalm 83, Ezekiel 38 & Blood Moons
on Friday, April 11, 2014 by Bill Salus

In this installment of Prophecy Update Radio we present a two part radio interview that was conducted at the Decoding the End Times prophecy conference on February 22, 2014. The radio show was produced by Menorah Radio and was hosted by David and Jule Bowling. Part one explores the futures of Israel, Iran and the […]

Are Alien Implants Controlled? LA Marzulli Explores the Possibility


on Tuesday, March 25, 2014 by Bill Salus

In this installment of the Prophecy Update Radio program, LA Marzulli takes the listener out to the front lines of the burgeoning UFO phenomena. Marzulli recently returned from conducting research in Peru for his soon to be released Watchers 8 DVD. This program was prerecorded just days before his departure. In this interview LA Marzulli […]

Are All the End Times Signs Converging?


on Saturday, March 8, 2014 by Bill Salus

In this installment of Prophecy Update Radio host Bill Salus interviews his good friend Dr. David Reagan. Dr. Reagan is the founder of Lamb and Lion Ministries, and the host of the Christ in Prophecy TV show. In this broadcast Dr. Reagan discloses how mankind is living on borrowed time. The fact that all the […]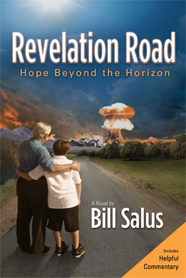 Revelation Road, Hope Beyond the Horizon
You are invited on a one-of-a-kind reading experience. Enjoy a novel and biblical commentary at the same time. This unique book is designed with appeal for both fiction and non-fiction audiences.

George Thompson believes his grandson Tyler lives in the final generation. Lovingly, he prepares the lad for the treacherous road ahead. All young Tyler wanted was a chance to join his sister at Eastside Middle School in the fall, but the Arab Spring led to an apocalyptic summer disrupting his plans. Middle East wars and nuclear terror in America quickly turned his world upside down.

Join the Thompson's on their journey through the Bible prophecies of the end times, and discover how their gripping story uncovers the silver lining of hope against the backdrop of global gloom and doom. The commentary section explains how their story could soon become your reality!

Revelation Road, Hope Beyond the Horizon $14.95 plus shipping and handling. Order your copy today!
Featured Articles



Watch TBN's End Times Praise: Perry Stone, Mark Biltz & Bill Salus
on Tuesday, March 25, 2014 by Bill Salus

On March 24, 2014 TBN TV presented another End Time's Praise program. This show was hosted by Matt and Laurie Crouch and featured Perry Stone, Mark Biltz, Bill Salus, Bill Cloud and Irvin Baxter. This panel discussed the prophetic implications of geo-political world events from a variety of differing perspectives. Mark Biltz discussed the coming […]

Blood Moons and Mideast Wars: What's the Connection?


on Monday, December 23, 2013 by Bill Salus

You are invited to watch a PowerPoint teaching presentation that was preached on December 8, 2013 by Bill Salus at Calvary Chapel Central Bucks, Pennsylvania. This 47 minute video is packed with prophetic information that should cause Christians to seek vigorously to redeem the time. If the coming blood red moons occurring on the holy […]

Watch 4 Blood Moons and Psalm 83 on TBN TV


on Tuesday, November 5, 2013 by Bill Salus

You are encouraged to watch John Hagee and Bill Salus discuss the possible correlation between the coming four blood red moons and the Psalm 83 Arab-Israeli war prophecy. Click on the image below to watch TBN's Praise the Lord TV show from November 1, 2013. This TBN program was hosted by Dwight Thompson, and the […]
Upcoming Events
March 24, 2014 Watch Mark Biltz & Bill Salus on TBN TV Live
On March 24, 2014 TBN's Praise the Lord TV show features another "End Time's Praise" TV program. The show will air LIVE from 7:00-9:00 p.m. (CST) from the TBN television studio in Dallas. Matthew Crouch will be discussing the ancient biblical prophecies that are extremely relevant for today. His guests will include Mark Biltz, and […]
April 25-27, 2014 LaHaye, Salus, Marzulli Prophecy Conf.
Calvary Chapel 412 Church in San Jacinto, CA is hosting a prophecy conference on April 25-27, 2014. Speakers will include Dr. Tim LaHaye, Bill Salus, LA Marzulli, Gary Stearman, Pastor Jack Hibbs, Pastor Tom Hughes, and more. For more information click HERE.
Nov. 16-27, 2013 Bill in Israel to Film 3 TBN TV Shows
Bill Salus will be traveling to Israel with the Trinity Broadcasting Team to film 3 TV shows from Jerusalem. More information will be made available in this post soon.
Q & A
Q & A: The Antichrist, Pope, Gog of Magog, Iran & Mideast Peace
on Tuesday, February 25, 2014 by Bill Salus
Is Russia reemerging as a Superpower? Is Pope Francis the final Pope? Is the Antichrist alive today? Is the chaos in the Ukraine significant in the end times? On Sunday February 23, 2014 prophecy expert Tom Hughes interviewed Bill Salus in two Q & A sessions. Tom Hughes is the pastor of Calvary Chapel 412 […]