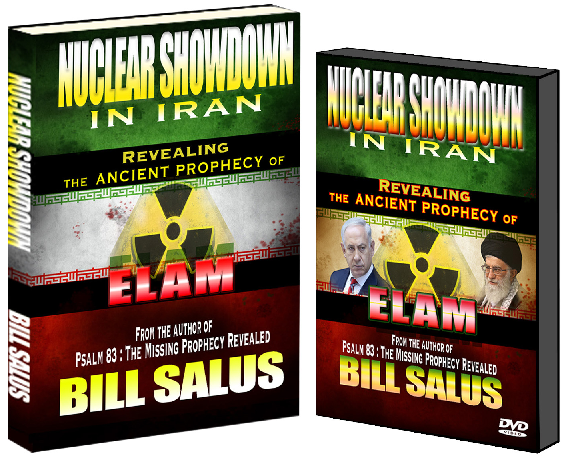 NEW DVD RELEASE – Nuclear Showdown in Iran, Revealing the Ancient Prophecy of Elam by Bill Salus
Own the Nuclear Showdown in Iran DVD and book.The Nuclear Showdown Package presents you with the book, which retails for $14.99, and the DVD, which sells for $12.95, for a cost of $27.94.
Purchase the Nuclear Showdown package now for only $27.94.
Click HERE to watch the book trailer!

Click HERE to read the Amazon book reviews!
Nuclear Showdown in Iran, The Ancient Prophecy of Elam Book Trailer
Latest Articles
Video: Iran's Nuclear Prophecy (Gary Stearman & Bill Salus)
on Wednesday, December 17, 2014 by Bill Salus

Prophecy Watchers TV, hosted by Gary Stearman, interviews prophecy expert and Psalm 83 author Bill Salus on this timely television broadcast. In this interview Gary and Bill unpack an ancient prophecy that appears to be ready for it's fulfillment. This show takes the viewer behind the scenes to contemplate the events that may soon lead to Israel's attack on Iran's burgeoning nuclear facilities.[…]

Shocking 2015 Mideast Scenario!


Wednesday, December 9, 2014 by Bill Salus

Are the apocalyptic Bible prophecies of Psalm 83, Isaiah 17, and Jeremiah 49 (Elam) about to find fulfillment? If so, which one comes first, and how does it trigger the other prophecies? Watch this video to see Gary Stearman and Bill Salus explore a Shocking 2015 Mideast scenario that is not too far-fetched. …]

Video Update: Current Events in Bible Prophecy


Thursday, December 11, 2014 by Bill Salus

Several powerful events that are presently taking place in Israel, China, America, Russia, Iran, at the Vatican and elsewhere are converging toward the fulfillment of end time's Bible prophecies. In this video interview Pastor Tom Hughes of Calvary Chapel 412 Church in San Jacinto and Bill Salus explore the potential prophetic connections of some of today's major current events. The current relevance of the prophecies of Psalm 83, Ezekiel 38 and Jeremiah 49 (Elam / Iran) are discussed.[…]
Latest Radio Broadcasts
A World Out of Control with John B. Wells & Bill Salus
on Monday, December 15, 2014 by Bill Salus

John B. Wells, formerly with Coast to Coast radio, interviews Bill Salus on Caravan to Midnight. This show talks about the importance of Bible prophecy today. Bible prophecy is invaluable predictive information that is outsourced from a loving God with 100% accuracy. It is intended to equip people for the times in which they live. Moreover, it can spare lives and save souls.[…]




The LORD is LIVID with IRAN!


on Friday, December 12, 2014 by Bill Salus

About 2600 years ago the LORD informed Jeremiah the prophet that HE was livid with Iran. Jeremiah 49:37 informs of this fierce anger. This verse also announces that Iran's western border, by the Persian Gulf, will be the location of an epic biblical disaster. This impending catastrophe comes as a result of a severe judgment from the LORD! You are invited to listen to a recent Prophecy Update radio program with Bill Salus and host Bob Mitchell, which recently aired in the U.K. about Jeremiah's Iranian prophecy.[…]




Bill Salus TV Teachings & Interviews (Frequently Updated)


on Saturday, October 4, 2014 by Bill Salus

The teachings of Bill Salus have been featured on many popular Christian TV networks internationally, like TBN, CBN, and Daystar to name a few. You can watch these TV teachings and interviews at this link. […]




Southwest Radio – "America and the Coming Mideast Wars"
on Saturday, November 22, 2014 by Bill Salus

Jesus said there would be wars and rumors of wars as the world approached His second coming. But does the Bible give us any details about these wars? In this two part radio show with Southwest Radio Church, Bill Salus explains America's crucial role in the Psalm 83 war, the Ezekiel 38-39 Magog invasion, and the Armageddon campaign of the Antichrist.[…]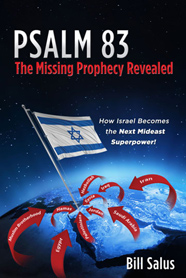 PSALM 83, The Missing Prophecy Revealed ? How Israel Becomes the Next Mideast Superpower"
An ancient prophecy written over 3000 years ago reveals that the Arab states and terrorist populations, which presently share common borders with Israel, will soon confederate in order to wipe Israel off of the map. These enemies of Israel are depicted on the red arrows upon the book cover image, and their mandate is clear:

They have said, "Come, and let us cut them off from being a nation, That the name of Israel may be remembered no more." (Psalm 83:4).

Psalm 83 predicts a climactic, concluding Arab-Israeli war that has eluded the discernment of today's top Bible scholars, and yet, the Middle East stage appears to be set for the fulfillment of this prophecy. While many of today's top Bible experts are predicting that Russia, Iran, Turkey, Libya, and several other countries are going to invade Israel according a prophecy in Ezekiel 38, this timely book explains how Psalm 83 occurs prior. Discover how Israel defeats their ancient Arab enemies, and why Americans need to stand beside Israel in this coming war!

Order Psalm 83 Today. Purchase your copy for only $15.99, or become a ministry partner and receive a free copy.

Click to read the introduction with the endorsements. Click to become a Prophecy Depot Ministry Partner.
Featured Articles



Iran Mocks America, Threatens Israel and Angers the Lord!
on Thursday, December 18, 2014 by Bill Salus


"Iran: Americans Have Very Clearly Surrendered," was the Washington Free Beacon headline on the day following the failed nuclear negotiations between Iran and the P5+1. The latest round of nuclear talks, which expired on November 24, 2014, yielded the similar fruitless results as the past deadline of July 20, 2014, at which time, the P5+1 consisting of Russia, China, America, Britain, France and Germany were unable to convince Iran to downgrade its nuclear program.[…]

Will Iran Nuke America in 2015?


on Monday, December 15, 2014 by Bill Salus

The November 24, 2014 deadline passed by with no deal made with the Iran's rogue Islamic regime. The talks have been extended, which allows Iran more time to manufacture an atomic weapon, and the ICBM, (Intercontinental Ballistic Missile), intended to strike America. […]

Christian TV Host Endorses New Salus Book!


Wednesday, November 5, 2014 by Bill Salus

Dr. David Reagan of Christ in Prophecy TV recently issued a powerful endorsement of Bill Salus's latest book entitled, Nuclear Showdown in Iran, Revealing the Ancient Prophecy of Elam. Dr. Reagan published a detailed article about the book in his November / December Lamplighter magazine. Reagan believes Salus has been annointed to reveal some overlooked prophecies that are relevant for today. […]

Receive Revelation for the Road Ahead


on Wednesday, September 10, 2014 by Bill Salus


Revelation Road, Hope Beyond the Horizon is a unique reading experience. It combines a novel with a helpful biblical commentary. The book was designed to put the fulfillment of end time's Bible prophecies into a storyline. It's one thing to read about biblical predictions, but it is often hard to imagine what it would be like to actually experience them. These foretellings are world changing events that are about to unfold.[…]
Upcoming Events
Jan. 15-18 - Cahn, Salus, Biltz "Perhaps This Year" Summit
Register now to kick off the New Year with invaluable insights. 2015 promises to be a provocative year, which could include the fulfillment of Bible prophecies like Psalm 83, Isaiah 17, and Jeremiah's prophecies concerning Elam (Iran). It is the year of the final two blood moons and the conclusion of the current Shemitah year. January 15-18, 2015, The Church of His Presence is hosting a prophecy summit entitled, PERHAPS THIS YEAR. Jonathan Cahn, Mark Biltz, and Bill Salus will be presenting new cutting edge prophetic information to the audience. […]
March 5-7, Cahn and Salus – Orlando Prophecy Summit
Come here Bill Salus, Jonathan Cahn, Joseph Farah and many more of today's top prophecy presenters at the 2nd annual Prophecy in the News Summit in Orlando, Florida. At last year's conference thousands of attendees and live streamers were richly blessed, and this year's summit promises to be another timely and informative event. MAKE SURE TO RESERVE YOUR TICKETS EARLY FOR THE THURSDAY MARCH 5, 2014, BANQUET TO HEAR BILL SALUS![…]
March 2, 2014, TBN TV – Cahn, Salus, Biltz & Perry Stone
On March 2, 2014 TBN TV will broadcast live, the Praise the Lord show and feature Jonathan Cahn, Bill Salus and Mark Biltz. The show will be hosted by Perry Stone. The show will be another "END TIME'S PRAISE" program and will explore the Bible prophecies that are relevant for today![…]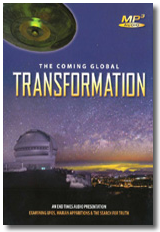 The Coming Global Transformation
Prophecy Depot is pleased to present our newest end times resource. The audio drama called The Coming Global Transformation is sweeping through prophetic circles arousing an enormous interest. Bill had the opportunity of consulting with the producers Jim Tetlow and Brad Myers on scene 13, "War in the Middle East," and scene 14 called "Psalm 83 / Isaiah 17." In light of the Palestinian U.N. bid for statehood, these two episodes are a must hear if you want to know what could be happening next in the Middle East.
Jim Tetlow and Brad Myers agree with Bill that the Middle East is about to go apocalyptic causing catastrophic world events to spiral out of control. What are these events? How will they affect your lives? And, how soon until they come? The Coming Global Transformation addresses these and many other last days' concerns.
The Coming Global Transformation CDs $15.00 plus shipping and handling. Order your copy today!