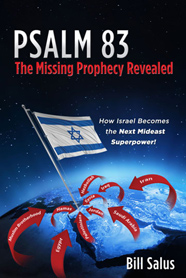 Psalm 83 The Missing Prophecy Revealed
An ancient prophecy written over 3000 years ago reveals that the Arab states and terrorist populations, which presently share common borders with Israel, will soon confederate in order to wipe Israel off of the map. These enemies of Israel are depicted on the red arrows upon the book cover image, and their mandate is clear:

They have said, "Come, and let us cut them off from being a nation, That the name of Israel may be remembered no more." (Psalm 83:4).

Psalm 83 predicts a climactic, concluding Arab-Israeli war that has eluded the discernment of today's top Bible scholars, and yet, the Middle East stage appears to be set for the fulfillment of this prophecy. While many of today's top Bible experts are predicting that Russia, Iran, Turkey, Libya, and several other countries are going to invade Israel according a prophecy in Ezekiel 38, this timely book explains how Psalm 83 occurs prior. Discover how Israel defeats their ancient Arab enemies, and why Americans need to stand beside Israel in this coming war!

ORDER BILL'S NEW BOOK TODAY. Purchase your copy for only $15.99, or become a ministry partner and receive a free copy.

Click to read the introduction with the endorsements. Click to become a Prophecy Depot Ministry Partner.
Latest Articles
Orlando Prophecy Summit: Live Streaming (March 28-30)
on Monday, March 3, 2014 by Bill Salus

Live from Orlando it's—LIVE STREAMING!!!! The big event at the Renaissance Seaworld in Orlando Florida is only a few short weeks away. A $50.00 registration fee gets you unlimited access to 16 messages from the main auditorium where you'll hear from a treasure trove of well-known prophecy teachers. Stearman, Missler, Cahn, Marzulli, Salus, Biltz, McGuire, […]

The Antichrist, Pope, False Prophet & Gog of Magog: Part 1


on Tuesday, February 25, 2014 by Bill Salus

Is Russia reemerging as a Superpower? Is Pope Francis the final Pope? Is the Antichrist alive today? Is the chaos in the Ukraine significant in the end times? On Sunday February 23, 2014 prophecy expert Tom Hughes interviewed Bill Salus in two Q & A sessions. Tom Hughes is the pastor of Calvary Chapel 412 […]

Mideast Update: Edom, Elam, Magog, & Blood Moons


on Tuesday, February 25, 2014 by Bill Salus

CBN TV's program called "The Watchman," which is hosted by Erick Stakelbeck, interviews White House correspondent Bill Koenig and Bible prophecy expert Bill Salus. Mideast Peace, Iran's nuclear program, blood red moons, and America's role in Bible prophecy are among the timely topics discussed. Click HERE to watch this edition of "THE WATCHMAN" The questions […]
Latest Radio Broadcasts
Is There a Second Shot at Salvation? (2 Thess. 2:1-12)
on Saturday, February 8, 2014 by Bill Salus

Are you a believer that expects the Rapture of the Christian Church to occur at any moment? If so, are you concerned that a loved one may get left behind and be cast into the perilous seven-year Tribulation Period? Are you seizing every opportunity to present the gospel to that person, but your sincere efforts […]

Jan Markell Interviews Bill Salus: America and the Mideast Wars


on Saturday, February 1, 2014 by Bill Salus

Jan and co-host Eric Barger talk to prophecy expert Bill Salus about the potential for the Psalm 83 war, the Gog-Magog War, and an Israeli strike on Iran. Experts have said Israel will strike Iran this spring or early summer although John Kerry employs "John Lennon foreign policy"– give (futile) peace a chance, and never […]

Dateline Jerusalem: Will Israel Strike Iran?


on Friday, January 17, 2014 by Bill Salus

While Bill was in Israel in November of 2013 he visited with the bureau chief for CBN News Chris Mitchell. Chris interviewed Bill for his CBN TV news program Jerusalem: Dateline, and Bill interviewed Chris for Prophecy Update Radio. You are invited to listen to their fascinating radio interview. Chris Mitchell has recently published a […]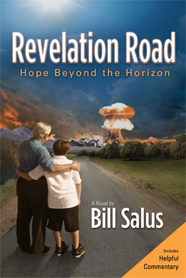 Revelation Road, Hope Beyond the Horizon
You are invited on a one-of-a-kind reading experience. Enjoy a novel and biblical commentary at the same time. This unique book is designed with appeal for both fiction and non-fiction audiences.

George Thompson believes his grandson Tyler lives in the final generation. Lovingly, he prepares the lad for the treacherous road ahead. All young Tyler wanted was a chance to join his sister at Eastside Middle School in the fall, but the Arab Spring led to an apocalyptic summer disrupting his plans. Middle East wars and nuclear terror in America quickly turned his world upside down.

Join the Thompson's on their journey through the Bible prophecies of the end times, and discover how their gripping story uncovers the silver lining of hope against the backdrop of global gloom and doom. The commentary section explains how their story could soon become your reality!

Revelation Road, Hope Beyond the Horizon $14.95 plus shipping and handling. Order your copy today!
Featured Articles



Blood Moons and Mideast Wars: What's the Connection?
on Monday, December 23, 2013 by Bill Salus

You are invited to watch a PowerPoint teaching presentation that was preached on December 8, 2013 by Bill Salus at Calvary Chapel Central Bucks, Pennsylvania. This 47 minute video is packed with prophetic information that should cause Christians to seek vigorously to redeem the time. If the coming blood red moons occurring on the holy […]

Watch 4 Blood Moons and Psalm 83 on TBN TV


on Tuesday, November 5, 2013 by Bill Salus

You are encouraged to watch John Hagee and Bill Salus discuss the possible correlation between the coming four blood red moons and the Psalm 83 Arab-Israeli war prophecy. Click on the image below to watch TBN's Praise the Lord TV show from November 1, 2013. This TBN program was hosted by Dwight Thompson, and the […]

NOW AVAILABLE "America and the Coming Mideast Wars" DVD


on Saturday, September 28, 2013 by Bill Salus

Prophecy Depot Ministries is pleased to announce the arrival of our latest DVD called "America and the Coming Mideast Wars." This DVD is already being promoted on mainstream Christian television and radio programs nationally and internationally. CLICK HERE TO BUY THIS DVD OR THE ENTIRE MIDEAST WAR PACK. The DVD includes two extremely timely lessons […]
Upcoming Events
Feb. 23, 2014 Understanding the Times – 412 Church
Come to the Prophecy Q & A conducted between Pastor Tom Hughes and Bill Salus at the Calvary Chapel 412 Church in San Jacinto. The service begins at 5:00 p.m. and will be covering today's most important prophetic topics. To view a previous Q & A between Tom and Bill CLICK HERE For more information […]
Feb. 28 – March 2, God's News Conference, Salus, Kah, Perkins
Join Us in St. Petersburg Florida for the God's News prophecy conference on Feb 28 through March 2, 2014 – Last year was our 30th Annual International Prophecy Conference. Our emphasis was on Israel, The Church and The Last Days – not just on Bible Prophecy. We are going to continue with that theme again […]
Feb. 21-22, 2014 Decoding the End Times Conference
Come to the Decoding the End Times Conference on February 21-22, 2014. Speakers will include LA Marzulli, Doug Hamp, Bill Salus and more. The conference is being hosted by Calvary Chapel Pacific Coast in Westminster, CA. WATCH THE PROPHECY CONFERENCE VIDEO BELOW Click HERE for more
Q & A
The Psalm 83 four-pack on TV
on Friday, October 4, 2013 by Bill Salus
The 4-Pack called "Psalm 83 – The Missing Prophecy Revealed, How Israel Becomes the Next Mideast Superpower" has become an AMAZON bestseller, and has been featured on many popular Christian TV shows internationally. To view these TV shows click on the links below. CLICK HERE TO WATCH JONATHAN CAHN AND BILL SALUS ON THE TBN […]