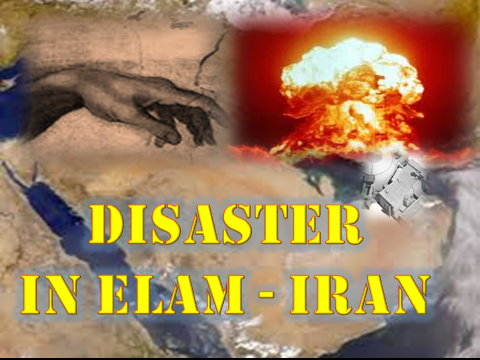 PROPHECY SHOCKER VIDEO! 2600 Year Old Prediction Comes to Light!
The alarming details of an ancient prophecy have recently been revealed! A biblical prophecy that has been vastly overlooked may foretell the future of Iran's dangerous nuclear program. A new book entitled, Nuclear Showdown in Iran, Revealing the Ancient Prophecy of Elam, exposes what could turn out to be the next major Middle East news headline.

Author Bill Salus, known for his ability to uncover hidden prophecies in the Bible, discloses a prophecy that was issued about 596 B.C. by Jeremiah the prophet. The prophecy informs that in the "latter days" Iran will fiercely anger the God of the Bible, which provokes a calamitous judgment upon the rogue nation. The judgment brings about a disaster that burgeons into a humanitarian crisis, as the affected populations seek refuge into the world nations.

Israel, the Arab Gulf states and the international community are extremely concerned about Iran's nuclear pursuits, and someday soon Israel may be compelled to attack Iran. Such an attack could be what triggers the fulfillment of this world changing prophecy.
Watch The Book Trailer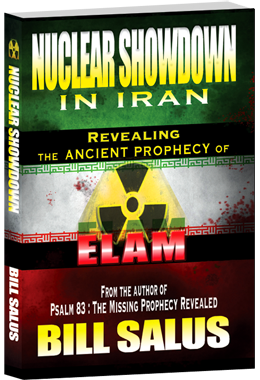 Nuclear Showdown in Iran, Revealing The Ancient Prophecy of Elam
Missiles cloud Mideast skies over the Persian Gulf. Iran shuts down the Strait of Hormuz. Arab oil is choked off to world markets. Hezbollah and Hamas launch scores of missiles into Israel. Terror cells initiate cycles of violence in America. Global economies begin to collapse.

Radioactivity permeates the skies over Bushehr's nuclear reactor. Countless Iranian's hastily seek refuge into neighboring nations. The Arabian Gulf becomes a cesspool of contamination. Desalinization plants can't process the polluted waters. A humanitarian crisis burgeons out of control. A disaster of epic biblical proportion has finally arrived in the Middle East!

About 2600 years ago the Hebrew prophets Jeremiah and Ezekiel issued parallel end times prophecies concerning modern-day Iran. Today the rogue country is becoming a nuclear nation and aggressively advancing its hegemony throughout the greater Middle East.

Nuclear Showdown in Iran, The Ancient Prophecy of Elam is a non-fiction thriller taking the reader on a journey of discovery through the eyes of the prophets and the minds of today's key national players.Can anything good come from the evil that is about to befall us? The ancient prophecy of Elam will reveal what God has ordained, what the prophets saw and what you need to know and do now.

Purchase Bill's NEW BOOK TODAY! Purchase your copy for only $13.99

Latest Articles
Are Jeremiah 49 and Ezekiel 38 the Same Prophetic Event?
on Saturday, August 16, 2014 by Bill Salus
According to a long forgotten prophecy that is recently being rediscovered, Iran appears to be the subject of two differing end time's prophecies. One prophecy is described in Jeremiah 49:34-39 concerning ancient Elam, and the other is in Ezekiel 38 regarding Persia. This article denotes the differences between Jeremiah 49:34-39 and Ezekiel 38 and 39. Several of these dissimilarities are substantial, which suggests that Jeremiah and Ezekiel are not describing the same prophetic event.hellip;]
The Prophecy of Elam on Watcher's TV (2 Parts)
on Monday, July 28, 2014 by
Bill Salus
A 2600 year old prophecy is now coming to light. Jeremiah the prophet predicted that a disaster would occur in the area of Iran's unstable Bushehr nuclear reactor. The facility was built where three tectonic plates converge. It is a 40 year old facility with a 30 year old cooling system, and is managed by a staff that is untrained to handle a serious disaster. The foretelling informs that many Iranians will flee into the nations of the world as a result of the disaster. Could this foretelling be addressing an attack on Iran's nuclear program? […]
IRAN: Nuclear Showdown – Prophecy in the News
on Monday, July 7, 2014 by
Bill Salus
As world leaders hastily attempt to persuade Iran to stop enriching uranium and put the brakes on its nuclear program, the Russian bear has risen in the uttermost parts of the north from its post-Cold War slumber. Unlike the decade old jihad of the Palestinians to retake the 2,178 square miles encompassing the West Bank, Russia annexed nearly five times that much territory with scarcely a struggle when it conquered Crimea in March of 2014. […]
VIDEO: Middle East Showdowns (Nuclear and Spiritual)
on Thursday, June 26, 2014 by
Bill Salus
Hormoz Shariat, the man that Bible prophecy expert Joel Rosenberg calls, The Billy Graham of Iran, sits down with Bill Salus to discuss the supernatural conversion of Iran into a Christian nation. Hormoz Shariat is a highly educated, American Iranian. He formerly lived in Iran until the Iranian revolution of 1979. Fortunately, he had left […]
Latest Radio Broadcasts
The Mideast Showdown Prophecies: Psalm 83 and Jeremiah 49
on Saturday, August 16, 2014 by Bill Salus
Jan Markell, the host of Understanding the Times radio, which is heard by over 650 radio stations in the U.S., interviews Bible prophecy expert Bill Salus. Markell and Salus discuss the coming Middle East showdowns alluded to in the prophecies of Jeremiah 49:34-39 and Psalm 83.[…]
View from the Bunker Radio – Nuclear Showdown in Iran
on Tuesday, August 1, 2014 by
Bill Salus
DID THE prophet Jeremiah foresee a nuclear disaster in Iran? During a conference that just happened to fall in the middle of Operation Protective Edge, a ground offensive by the Israel Defense Force into the Gaza Strip, we talked with Bill Salus of Prophecy Depot Ministries about the conflict between Israel and Hamas and the possibility that it could spread into a wider regional conflict. We also talk about Egypt and how the collapse of the Muslim Brotherhood's government there has affected the situation in Gaza.[…]
Markell Warns Global Anti-Semitism is an End Times Sign!
on Tuesday, June 24, 2014 by
Bill Salus
In this two part installment of the Prophecy Update radio program, Bill Salus, and Jan Markell of Olive Tree Ministries, discuss the global increase in Anti-Semitism. Jan Markell is the widely respected radio host of Understanding the Times , which is heard on over 650 radio stations throughout the country. In these fascinating programs, Jan[…]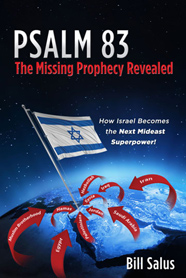 PSALM 83, The Missing Prophecy Revealed ? How Israel Becomes the Next Mideast Superpower"
An ancient prophecy written over 3000 years ago reveals that the Arab states and terrorist populations, which presently share common borders with Israel, will soon confederate in order to wipe Israel off of the map. These enemies of Israel are depicted on the red arrows upon the book cover image, and their mandate is clear:

They have said, "Come, and let us cut them off from being a nation, That the name of Israel may be remembered no more." (Psalm 83:4).

Psalm 83 predicts a climactic, concluding Arab-Israeli war that has eluded the discernment of today's top Bible scholars, and yet, the Middle East stage appears to be set for the fulfillment of this prophecy. While many of today's top Bible experts are predicting that Russia, Iran, Turkey, Libya, and several other countries are going to invade Israel according a prophecy in Ezekiel 38, this timely book explains how Psalm 83 occurs prior. Discover how Israel defeats their ancient Arab enemies, and why Americans need to stand beside Israel in this coming war!

Order Pslam83 Today. Purchase your copy for only $15.99, or become a ministry partner and receive a free copy.

Click to read the introduction with the endorsements. Click to become a Prophecy Depot Ministry Partner.
Featured Articles
Elam: Iran's Forgotten Prophecy!
on Tuesday, August 12, 2014 by Bill Salus
This article is featured in the August edition of the Koinonia House newsletter. The K-House newsletter is published through Koinonia House Ministries founded by Bible prophecy expert Chuck Missler.
It was March 29, 2014, in Orlando, Florida when prophecy experts Chuck Missler and Gordon McDonald, of Koinonia House Ministries were reminded of a long forgotten Bible prophecy concerning Iran. They, along with your's truly, were seated alone together at the head table of the Prophecy in the News conference banquet. While patiently awaiting the auditorium doors to fling open, and the masses to flood in for the feast, I humbly inquired, "Have you gentlemen taken a serious look at the vastly overlooked prophecies identified in Jeremiah 49:34-39 concerning Elam?" […]
Part 1: Nuclear Showdown in Iran on PITN TV
on Wednesday, July 16, 2014 by
Bill Salus
You are invited to watch Part 1 of the Prophecy in the News TV show featuring the new Bill Salus book entitled, Nuclear Showdown in Iran, Revealing the Ancient Prophecy of Elam. The book has already become #1 in Hot New Releases (Eschatology) on Amazon.com. Nuclear Showdown in Iran, The Ancient Prophecy of Elam provides the reader with invaluable insights into the nearest future. This book reveals the potential relevance of an ancient prophecy concerning Iran's nuclear program that has been vastly overlooked. Additionally, it explores and sequences other age old biblical predictions that are also about to happen. […]
Introducing: Nuclear Showdown In Iran – The Ancient Prophecy of Elam
on Monday, March 31, 2014 by
Bill Salus
On April 1, 2014 Bill Salus appeared on Daystar TV for the Marcus & Joni Show. During the interview Bill had scarcely introduced the Arab-Israeli war prophesied in Psalm 83, when Marcus began asking about Israel nuclear weapons program. From there the show spun off into a combination history, prophecy and geo-political conversation. Marcus was […]
Upcoming Events
Prophecy in the News 2nd Annual Pike's Peak Conference
Join Us at Pike's Peak July 25-27th! Prophecy in the News will be heading back to Pike's Peak on July 25-27, 2014 and tickets and hotel rooms are disappearing rapidly. We'll be back at the Marriott Hotel in Colorado Springs one of the nicest summer vacation spots in America. Call 800 475-1111 from 9-5 CST (you […]
8/10/14 Salus Teaches at Calvary Chapel Big Bear Lake
You are invited to come hear Bill Salus teach at Calvary Chapel Big Bear Lake on August 10, 2014. Bill will be teaching from his new book entitled, Nuclear Showdown in Iran, Revealing the Ancient Prophecy of Elam. Click Here for Service Times and location. Watch the Video Book Trailer below.[…]
Strategic Perspectives Conference: Missler, Salus, Biltz, Farah & More
The annual Strategic Perspectives Conference is put on by Chuck Missler's Koinonia House Ministry. This years speaker lineup includes Chuck Missler, Bill Salus, Tom Horn, Joseph Farah, Mark Biltz, LA Marzulli, Bob Cornuke, and several other notable teachers. Location: Coeur d'Alene, ID, October 23–25, 2014 at the Coeur d'Alene Resort 115 South 2nd Street, Coeurhellip;]
March 24, 2014 Watch Mark Biltz & Bill Salus on TBN TV Live
On March 24, 2014 TBN's Praise the Lord TV show features another "End Time's Praise" TV program. The show will air LIVE from 7:00-9:00 p.m. (CST) from the TBN television studio in Dallas. Matthew Crouch will be discussing the ancient biblical prophecies that are extremely relevant for today. His guests will include Mark Biltz, and […]
Q & A
Q & A Sessions with Gary Stearman & Bill Salus Part One
on Friday, May 2, 2014 by Bill Salus
Q & A Prophecy Sessions with Gary Stearman, Bill Salus Part One Recently at the 412 Church Bible prophecy conference hosted by Pastor Tom Hughes, Gary Stearman and Bill Salus answered many end times questions. You are invited to watch part one of three below. Some of the questions are listed below. What is an […]