on Friday, April 22, 2011 by
Bill Salus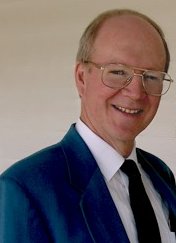 If the theory of Evolution is correct then mankind lacks purpose. Yet the Bible teaches otherwise. This week on Prophecy Update Radio Bill Salus discusses the fallacies of evolution with creation expert Dr. Jobe Martin. Dr. Martin is the author of "The Evolution of a Creationist," and a graduate from Dallas Theological Seminary.
The listener will appreciate Dr. Martin's ability to combine scripture and creation examples to dispel evolution arguments. During this fascinating program he illustrates how the fingerprints of God are observable throughout all of creation leaving man no alternative, but to recognize his Creator.
Have you ever heard about the miracle of a Brazil Nut tree and its symbiotic relationship with the long-tongued orchid bee? Or, do you know how earth's magnetic field affects the formation of Carbon 14? If not, then you can find out by listening to this fascinating radio program.