on Saturday, August 27, 2011 by
Bill Salus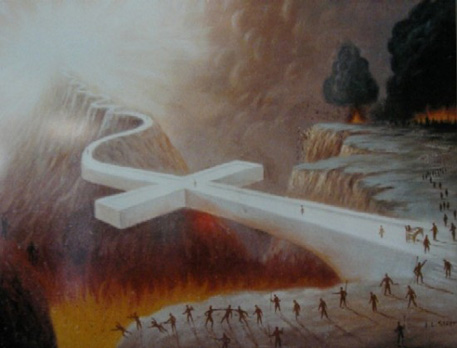 "In an acceptable time I have heard you, And in the day of salvation I have helped you." Behold, now is the accepted time; behold, now is the day of salvation.
The most important decision one can make in their entire lifetime is to choose Christ as their personal Lord and Savior. It is the sinner's passport to paradise. However, sin is not allowed in heaven, therefore Christ came to remedy the sin problem confronting mankind. He was sent because God so loved the world that He wished none would perish but all would inhabit eternity.
For God so loved the world that He gave His only begotten Son, [Jesus Christ] that whoever believes in Him should not perish but have everlasting life.
And this is eternal life, that they may know You, the only true God, and Jesus Christ [Begotten Son of God] whom You have sent.
These passages point out that people are perishing to the great displeasure of God, who loves them immeasurably. He wishes that none would perish, but that everyone would inhabit eternity with Him and His only begotten Son, Jesus Christ. Quintessential to eternal life is the knowledge of these two.
Sin Separates Us from the Love of God
The apostle John reminds us in 1 John 4:8, 16 that God is love, but man lives in a condition of sin, which separates him from God's love. Romans 8:5-8 explains how sin manifests into carnal behavior that creates enmity between God and man.
So then, those who are in the flesh cannot please God. Romans 8:8, NKJV.
The book of Romans instructs that sin entered into the world through Adam, and spread throughout all mankind thereafter. Additionally, Romans informs that sin is the root cause of all death, but through Jesus Christ eternal life can be obtained.
Therefore, just as through one man [Adam] sin entered the world, and death through sin, and thus death spread to all men, because all [men] sinned.
Romans 5:12, NKJV; emphasis added
All we like sheep have gone astray; We [mankind] have turned, every one, to his own way; And the LORD has laid on Him [Jesus Christ] the iniquity of us all.
Isaiah 53:6, NKJV; emphasis added
For the wages of sin is death, but the gift of God is eternal life in Christ Jesus our Lord.
If this makes sense to you, and you;
1. Recognize you are a sinner separated from your Creator living under the curse of sin,
2. Want to repent and  make the necessary change to be in right relationship with God,
3. And, want to do it right now,
Then you have come to a right place spiritually. It is the place where millions before you, and many of your contemporaries alongside you, have arrived.
Fortunately, you have only one final step to take to complete your eternal journey. This is because salvation is a gift of God. Christ paid the full price for all sin, past, present, and future, when He sacrificed His life in Jerusalem about 2000 years ago. Your pardon for sin is available to you through faith in the finished work of Jesus Christ completed upon His bloodstained cross. His blood was shed on our behalves. He paid sins wages of death on our account.
You must now take the final leap of faith to obtain your eternal salvation. It is your faith in Christ that is important to God.
But without faith it is impossible to please Him, [God] for he who comes to God must believe that He is, and that He is a rewarder of those who diligently seek Him.
Hebrews 11:6, NKJV; emphasis added
In this you [believer] greatly rejoice, though now for a little while, if need be, you have been grieved by various trials, that the genuineness of your faith, being much more precious than gold that perishes, though it is tested by fire, may be found to praise, honor, and glory at the revelation of Jesus Christ, whom having not seen you love. Though now you do not see Him, yet believing, you rejoice with joy inexpressible and full of glory, receiving the end of your faith—the salvation of your souls.
Before the necessary step to salvation gets introduced it is important to realize and appreciate that salvation is a gift provided to us through God's grace. We didn't earn it, but we must receive it. If you are one who has worked hard to earn everything you have achieved in life that is extremely honorable. However, there is nothing you as a sinner could have done to meet the righteous requirement to cohabit eternity with God. In the final analysis, when we see our Heavenly Father in His full glory, we will all be overwhelmingly grateful that Christ's sacrificial death bridged the chasm between our unrighteousness, and God's uncompromised righteousness.
But God, who is rich in mercy, because of His great love with which He loved us, even when we were dead in trespasses, [sin] made us alive together with Christ (by grace you have been saved), and raised us up together, and made us sit together in the heavenly places in Christ Jesus, that in the ages to come He might show the exceeding riches of His grace in His kindness toward us in Christ Jesus. For by grace you have been saved through faith, and that not of yourselves; it is the gift of God, not of works, lest anyone should boast.
Ephesians 2:4-9, NKJV; emphasis added
The Good News Gospel Truth
The term gospel is derived from the Old English "god-spell," which was understood to mean "good news," or "glad tidings." In a nutshell, the gospel is the good news message of Jesus Christ. Jesus came because God so loved the world that He sent His Son to pay the penalty for our sins. That's part of the good news, but equally important is the "Resurrection."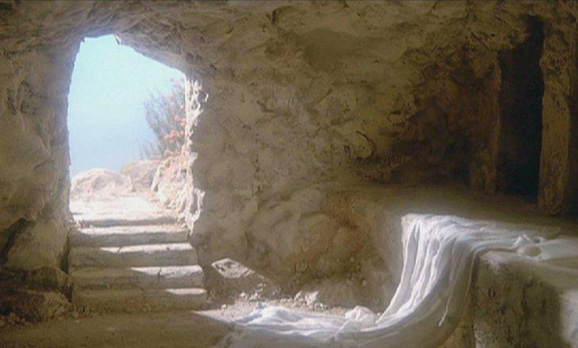 This is the entire good news gospel;
For I delivered to you first of all that which I also received: that Christ died for our sins according to the Scriptures, and that He was buried, and that He rose again the third day according to the Scriptures
Christ resurrected which means He's alive and able to perform all of His abundant promises to believers. The bible tells us that He is presently in heaven seated at the right hand side of God the Father waiting until His enemies become His footstool.
But this Man, [Jesus Christ became a Man, to die a Man's death] after He had offered one sacrifice for sins forever, sat down at the right hand of God, from that time waiting till His enemies are made His footstool. For by one offering He has perfected forever those who are being sanctified.
Hebrews 10:12-14, NKJV; emphasis added
The resurrection of Christ overwhelmingly serves as His certificate of authenticity to all His teachings. He traveled through the door of death, and resurrected to validate His promises and professions. This can't be said of the claims of Buddha (Buddhism), Mohammed (Islam), Krishna (Hinduism), or any of the other host of deceased human non-resurrected false teachers. All the erroneous teachings they deposited on the living side of death's door were invalidated when they died and lacked the similar resurrection power.
One of Christ's most important claims is;
Jesus said to him, "I am the way, the truth, and the life. No one comes to the [heavenly] Father except through Me."
John 14:6, NKJV; emphasis added
This is a critical claim considering eternal life can only be obtained by knowing the heavenly Father, and Christ, whom He sent, according to John 17, listed at the top of this article. Most importantly the resurrection proves that death has an Achilles heel. It means that its grip can be loosed from us, but only by Christ who holds the power over death.
"O Death, where is your sting? O Hades, where is your victory?" The sting of death is sin, and the strength of sin is the law. But thanks be to God, who gives us the victory [over Death and Hades] through our Lord Jesus Christ.
1 Corinthian 15:55-57, NKJV; emphasis added
How to be Saved – You Must Be Born Again
Jesus answered and said to him, [Nicodemus] "Most assuredly, I say to you, unless one is born again, he cannot see the kingdom of God."
John 3:3, NKJV; emphasis added
Jesus told Nicodemus, a religious leader of his day, that entrance into the kingdom of God required being born again. This is a physical impossibility, but a spiritual necessity, and why faith plays a critical role in your salvation. You can't physically witness your new birth, it is a spiritual accomplishment beyond your control that happens upon receiving Christ as your Lord and Savior. God takes full responsibility for your metamorphosis into a new creation at that point.
Therefore, if anyone is in Christ, he is a new creation; old things have passed away; behold, all things have become new.
You must trust God to perform on His promise to escort you through the doors of death into eternity, and to process you into the likeness of Christ meanwhile. This is the ultimate meaning of being born again, and alongside Christ, is a responsibility undertaken by the third member of the Trinity, the Holy Spirit. Christ holds the power over Death and Hades, but the Holy Spirit is your "Helper" that participates in your spiritual processing.
I am He [Jesus Christ] who lives, and was dead, and behold, I am alive forevermore. [Resurrected] Amen. And I have the keys of Hades and of Death.
Revelation 1:18, NKJV; emphasis added
"If you love Me, [Christ] keep My commandments. And I will pray the Father, and He will give you another Helper, [Holy Spirit] that He may abide with you forever— the Spirit of truth, whom the world cannot receive, because it neither sees Him nor knows Him; but you know Him, for He dwells with you and will be in you.
John 14:15-17, NKJV; emphasis added
"These things I have spoken to you while being present with you. But the Helper, the Holy Spirit, whom the Father will send in My name, He will teach you all things, and bring to your remembrance all things that I said to you.
In order for you to successfully crossover from death to eternal life, at the appointed time, God has to work his unique miracle. Christ's resurrection demonstrated He possesses the power to make your eternity happen. Death wasn't eliminated in the resurrection, it was conquered. Death still serves its purpose on earth by providing the sinner his due wage. Death continues to serve its purpose even in the Messianic Kingdom, whereby Christ reigns on a restored earth for 1000 years.[i]
"No more shall an infant from there live but a few days, Nor an old man who has not fulfilled his days; For the child shall die one hundred years old, But the sinner being one hundred years old shall be accursed.
Isaiah 65:20, NKJV; emphasis added
This is why the full gospel involves both God's love and power. His love for us would be of little benefit if it ended with our deaths. His love and power are equally important for our eternal assurance.
Therefore, we are informed in Romans 10, the following;
But what does it say? "The word is near you, in your mouth and in your heart" (that is, the word of faith which we preach): that if you confess with your mouth the Lord Jesus and believe in your heart that God has raised Him from the dead, you will be saved. For with the heart one believes unto righteousness, and with the mouth confession is made unto salvation. For the Scripture says, "Whoever believes on Him will not be put to shame." For there is no distinction between Jew and Greek, for the same Lord over all is rich to all who call upon Him. For "whoever calls on the name of the Lord shall be saved."
These Romans passages sum it up for all who seek to be saved through Christ. We must confess that Jesus Christ is Lord, and believe in our hearts that God raised Him from the dead.
The Sinner's Prayer for Salvation
Knowing that confession of Christ as Lord, coupled with a sincere faith that God raised Him from the dead are salvation requirements, the next step is customarily to recite a sinner's prayer in order to officiate one's salvation.
Definition of the Sinner's Prayer
"A sinner's prayer is an evangelical term referring to any prayer of repentance spoken or read by individuals who feel convicted of the presence of sin in their life and desire to form or renew a personal relationship with God through his son Jesus Christ. It is not intended as liturgical like a creed or a confiteor. It is intended to be an act of initial conversion to Christianity, and also may be prayed as an act of recommitment for those who are already believers in the faith. The prayer can take on different forms. There is no formula of specific words considered essential, although it usually contains an admission of sin and a petition asking that the Divine (Jesus) enter into the person's life."[ii]
Example of the Sinner's Prayer
Below is a sample Sinner's Prayer taken from the Salvation Prayer website. If you are ready to repent from your sins, and accept Jesus Christ as your personal Lord and Savior, read this prayer will all sincerity of heart to God.
Dear God in heaven, I come to you in the name of Jesus. I acknowledge to You that I am a sinner, and I am sorry for my sins and the life that I have lived; I need your forgiveness.
I believe that your only begotten Son Jesus Christ shed His precious blood on the cross at Calvary and died for my sins, and I am now willing to turn from my sin.
You said in Your Holy Word, Romans 10:9 that if we confess the Lord our God and believe in our hearts that God raised Jesus from the dead, we shall be saved.
Right now I confess Jesus as the Lord of my soul. With my heart, I believe that God raised Jesus from the dead. This very moment I accept Jesus Christ as my own personal Savior and according to His Word, right now I am saved.
Thank you Jesus for your unlimited grace which has saved me from my sins. I thank you Jesus that your grace never leads to license, but rather it always leads to repentance. Therefore Lord Jesus transform my life so that I may bring glory and honor to you alone and not to myself.
Thank you Jesus for dying for me and giving me eternal life.
Amen.[iii]
Congratulations and welcome into the household of God!
Below are the congratulatory words and recommendations also taken from the Salvation Prayer website. If you just prayed the Sinner's Prayer please be sure to read this section for further guidance.
"If you just said this prayer and you meant it with all your heart, we believe that you just got saved and are born again. You may ask, "Now that I am saved, what's next?" First of all you need to get into a bible-based church, and study God's Word. Once you have found a church home, you will want to become water-baptized. By accepting Christ you are baptized in the spirit, but it is through water-baptism that you show your obedience to the Lord. Water baptism is a symbol of your salvation from the dead. You were dead but now you live, for the Lord Jesus Christ has redeemed you for a price! The price was His death on the cross. May God Bless You!"[iv]
Remember, being born again is a spiritual phenomenon. You may have felt an emotional response to your commitment to Christ, but don't be concerned if fireworks didn't spark, bands didn't march, sirens didn't sound, or trumpets didn't blast in the background at the time. There will be plenty of ticker-tape for us in heaven, which is where our rewards will be revealed. If you meant what you said, you can be assured God, Who sent His Son to be crucified on our behalf, overheard your every word. Even the angels in heaven are rejoicing.
"Likewise, I say to you, there is joy in the presence of the angels of God over one sinner who repents."
Luke 15:10, NKJV; emphasis added
Welcome to the family…!
---
[i] The Messianic Kingdom was the high-point of Old Testament prophecy. Revelation 20:4 informs that is lasts for 1000 years.
[ii] Sinner's Prayer quote taken from Wikipedia over the Internet on 8/13/11 at this link: http://en.wikipedia.org/wiki/Sinner's_prayer
[iii] Sinner's prayer example was copied from the Internet on 8/13/11 at this website link: http://www.salvationprayer.info/prayer.html
[iv] Quote welcoming those who prayed the sinner's prayer into the family of God copied over the Internet on 8/13/11 at this link: http://www.salvationprayer.info/prayer.html