on Sunday, October 28, 2012 by
Bill Salus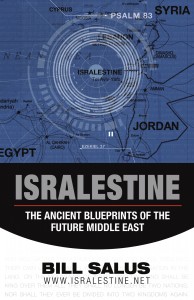 Current events in the Middle East are causing Bible prophecy experts like Frank Dimora and Bill Salus to present the contrasts between Psalm 83 and Ezekiel 38. Psalm 83 is the central theme of Isralestine, The Ancient Blueprints of the Future Middle East. You are invited below to watch a video comparison of these two timely Mideast Bible prophecies with Frank and Bill.
The goal of the Psalm 83 Arab confederacy is to destroy the nation of Israel and take possession of the Promised Land, but the goal of the Ezekiel 38 coalition is to invade Israel for plunder and great booty. Another difference is that the Israeli Defense Forces defeat the Psalm 83 Arabs, but the Lord single-handedly divinely defeats the Ezekiel invaders.
Psalm 83 is an "Inner Circle" confederation of Israel's Arab enemies that share common borders with the Jewish state, but Ezekiel 38 is and "Outer Ring" coalition of entirely different countries. The maps below show the differences between the "Inner Circle," and the "Outer Ring." The pentagon represents the Arab countries and terrorist populations enlisted in Psalm 83.
These topics and many more are explored in this Frank Dimora and Bill Salus video discussion.
WATCH THE DIMORA / SALUS VIDEO DISCUSSION HERE
A follow up discussion about the timing of the Rapture of the Church with Frank and Bill can be viewed here.
INNER CIRCLE OF PSALM 83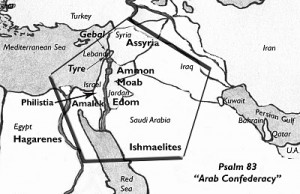 OUTER RING OF EZEKIEL 38