on Wednesday, August 14, 2013 by
Bill Salus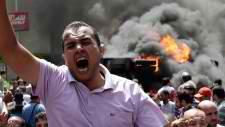 You are invited to watch a timely Prophecy in the News TV program that discusses the future judgments of Egypt predicted in the Bible. It appears as though Egypt's best days are behind it, and that the burgeoning crisis going on in Egypt between the military and Muslim Brotherhood is the beginning of Egypt's rapid downfall.
This TV interview hosted by Bob Ulrich with his guest Bill Salus begins by discussing the Mideast war prophecies in Psalm 83 and Ezekiel 38, but then turns its attention toward the future of Egypt according to the Bible.
Click HERE to watch this important interview.
To learn more about Egypt's future according to Bible prophecy purchase Bill's Psalm 83, the Missing Prophecy Revealed book at this link.