on Wednesday, July 16, 2014 by
Bill Salus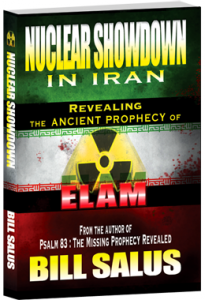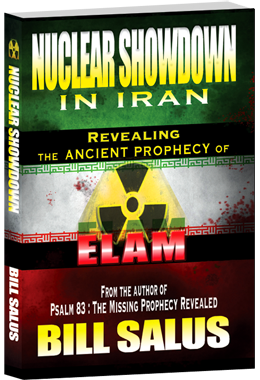 You are invited to watch Part 1 of the Prophecy in the News TV show featuring the new Bill Salus book entitled, Nuclear Showdown in Iran, Revealing the Ancient Prophecy of Elam. The book has already become #1 in Hot New Releases (Eschatology) on Amazon.com
CLICK HERE TO WATCH THE BOOK TRAILER
Nuclear Showdown in Iran, The Ancient Prophecy of Elam provides the reader with invaluable insights into the nearest future. This book reveals the potential relevance of an ancient prophecy concerning Iran's nuclear program that has been vastly overlooked. Additionally, it explores and sequences other age old biblical predictions that are also about to happen.
There is a tug of war going on in the world's next nuclear hotspot, and it's partially political, but mostly spiritual. While Iran's Islamic leaders experiment with the atom, scores of their countrymen embrace its maker. There is a crisis taking place in Iran, and it's far more reaching than the mainstream news media is reporting. Seventh Century Islam and state censored media have finally met their match in Christian satellite TV.
About 2600 years ago the Hebrew prophets Jeremiah and Ezekiel issued parallel end times prophecies concerning modern-day Iran. Today the rogue country is becoming a nuclear nation and aggressively advancing its hegemony throughout the greater Middle East.
Nuclear Showdown in Iran, Revealing the Ancient Prophecy of Elam is a non-fiction thriller taking the reader on a journey of discovery through the eyes of the prophets and the minds of today's key national players.
WATCH PART 1 OF PITN TV SHOW (NUCLEAR SHOWDOWN IN IRAN)