on Friday, January 17, 2014 by
Bill Salus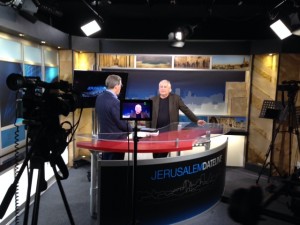 While Bill was in Israel in November of 2013 he visited with the bureau chief for CBN News Chris Mitchell. Chris interviewed Bill for his CBN TV news program Jerusalem: Dateline, and Bill interviewed Chris for Prophecy Update Radio.
You are invited to listen to their fascinating radio interview. Chris Mitchell has recently published a timely book called Dateline Jerusalem, An Eyewitness Account of Prophecies Unfolding in the Middle East. Click HERE to read more about Chris Mitchell's book.
Bill asked Chris, "Will Israel strike Iran's nuclear program?" Click HERE to discover Mitchell's qualified answer to this question and many more.