on Friday, May 2, 2014 by
Bill Salus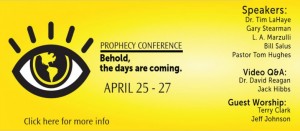 Q & A Prophecy Sessions with Gary Stearman, Bill Salus Part One
Recently at the 412 Church Bible prophecy conference hosted by Pastor Tom Hughes, Gary Stearman and Bill Salus answered many end times questions. You are invited to watch part one of three below. Some of the questions are listed below.
What is an EMP?
Is it possible for man to manipulate the weather?
Do you see growing immorality as evidence of Christ's soon coming?
Are the blood moons significant?
Are Russian advances in Crimea and the Ukraine related to Ezekiel 38?
Can we pin the tail on the Antichrist? Do we know much about him?
Will the Antichrist be a Muslim?
Who are the 10 Kings?
What is the spoil Russia seeks from Israel in Ezekiel 38?
What is the most recognizable sign of Christ's soon coming?
Are we living in the last generation?