on Sunday, April 3, 2016 by
Bill Salus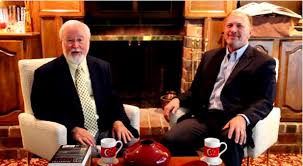 After 23 years in prophetic ministry, I can usually tell when an author has a best-seller on his hands. The NOW PROPHECIES has now officially become the #1 bestseller in the 18 month history of The Prophecy Watchers, eclipsing . . . Bill's last DVD, Out of the Mouth of Two Witnesses. Imagine that!
All of Bill's books and DVDs feature exciting, cutting-edge research, straight from the pages of the Bible. Bill loves mining new ground and really digging into these complicated prophecies. Based on the positive comments we hear all the time, people have really enjoyed his research on Psalm 83, Jeremiah 49, Isaiah 17, and Ezekiel 38 and 39. These are most certainly prophecies for TODAY and most people who study Bible prophecy realize where we are on the timeline. It's getting LATE.
The NOW Prophecies, (or should we call them the WOW Prophecies) have been a never-ending inventory nightmare for me! Last Thursday I emailed, called and texted Bill 3 different times with 3 ridiculous orders! All in the SAME DAY! He kept asking me if was sending him a duplicate order! Another 1,000 books and DVDs will soon be heading out the door! Praise God! He needs to create a FedEx assembly line straight from California to Oklahoma because we hate back orders! But we ARE having trouble keeping Bill's best-sellers in stock. For good reason.
Tens of thousands of people have viewed Bill's two interviews with Gary on our website at ProphecyWatchers.com. Millions more have watched him featured on our public ROKU Channel, The Church Channel, Direct TV, DISH, CTN, The Cornerstone Network and many other Christian stations all across the country.
We also have another surprise coming your way. Gary and Bill shot an hour long interview together—an interview Bill called "the very best interview he's ever had with anyone." Bill shares his shocking testimony—something he rarely reveals—how he and his family escaped a dangerous cult leader in Hawaii and wound up in California where he was invited to hear a "well-known" prophecy teacher speak. Soon after, this successful piano bar player was a child of the King! This will be one of our first efforts coming out of "STUDIO 2," a new ministry endeavor you can read about in the April issue of The Prophecy Watcher. You're going to get to know our special guests a whole lot better.
The NOW Prophecies is a book and DVD you DO NOT want to miss. It focuses in on the timing of these linchpin events that seem joined at the hip. Like dominoes, once they start falling they may not stop. With the Middle East heating up, now with Russia and ISIS involved, and the ugly political chaos in the USA, even people who know nothing about Bible prophecy know that something BIG could happen in 2016. THIS YEAR!!
Bill's book has the answers people need and is geared for the lost, not just prophecy experts. When you order both the book and the DVD we'll send you a free Prophecy Watcher magazine (featuring Bill's feature length article on Ezekiel 38 & 39) and a FREE DVD chronicling our March 2015 trip to Israel. We created a video travelogue there—Join Us in Jerusalem. See Jerusalem NOW before you run out of time! Don't miss Bill's timely work!
Bob Ulrich
Chief Operations Officer of Prophecy Watchers
BELOW ARE THE RECENT PROPHECY WATCHERS TV SHOWS THAT FEATURE THE NOW PROPHECIES BOOK.


CLICK HERE TO BUY THE NOW PROPHECIES BOOK.
CLICK HERE TO BUY THE NOW PROPHECIES DVD.
CLICK HERE TO BUY THE NOW PROPHECIES BOOK AND DVD IN A DISCOUNTED BUNDLE PACKAGE.
WATCH THE NOW PROPHECIES DVD TRAILER BELOW.