on Wednesday, August 22, 2018 by
Bill Salus
Below is the TV show and transcripts for the Christ in Prophecy TV show in August of 2018. 
Dr. David Reagan and Nathan Jones interview Bill Salus on Christ in Prophecy TV. The topic that is discussed is the true identity of the GREAT CITY called Mystery, Babylon. Is it New York City, Jerusalem, Mecca, Rebuilt Babylon, Iraq, or is it Rome, the city that sits on seven-hills? Watch this TV show to hear the arguments that strongly suggest that the Harlot world religion is the Catholic Church and that the GREAT CITY that it's headquartered in is ROME!
CLICK HERE TO READ THE ORIGINAL TRANSCRIPTS AT THE CHRIST IN PROPHECY JOURNAL. They are also posted below.
One of the portions of the book of Revelation whose meaning is hotly debated is the reference to Mystery Babylon in chapter 17. It appears that this will be the location of the Antichrist's governmental and spiritual headquarters. But, where exactly is Mystery Babylon located? Will it be headquartered in Jerusalem, New York, Mecca, or Rome? Or, will it be ancient Babylon rebuilt?
Dr. David Reagan and I asked these questions on our television program Christ in Prophecy of Bible prophecy expert Bill Salus, the founder and director of Prophecy Depot Ministries based in La Quinta, California. Bill is a prolific writer and conference speaker, best known for his insightful book about Psalm 83 and the war that is depicted in it.
Arguments Against a Rebuilt Babylon
Bill Salus: David and Nathan, it is good to be with you. I want to personally thank you for your May edition of the Lamplighter magazine where I got my new nickname — the Star Trek Eschatologist. Boy, thanks for that!
Dr. Reagan: Well, I called you that because you boldly go where no one else has gone before when it comes to being an Eschatologist.
Bill Salus: Well, that label has created some repercussions everywhere I go, for now people think I've become some kind of pest exterminator! They don't know what an Eschatologist is, so I've got to explain the label to them. Eschatos means "last or final" in the Greek, and ology is "study," so together Eschatology is the "study of the last and final days."
Nathan Jones: Alright, Captain Salus, are you ready to embark on another journey?
Bill Salus: Let's boldly go!
Nathan Jones: Yes, let's boldly address the subject of Mystery Babylon. Let's go right to the source text, which is Revelation 17:1-6:
"Then one of the seven angels who had the seven bowls came and talked with me, saying to me, 'Come, I will show you the judgment of the great harlot who sits on many waters, with whom the kings of the earth committed fornication, and the inhabitants of the earth were made drunk with the wine of her fornication.'
So he carried me away in the Spirit into the wilderness. And I saw a woman sitting on a scarlet beast which was full of names of blasphemy, having seven heads and ten horns. The woman was arrayed in purple and scarlet, and adorned with gold and precious stones and pearls, having in her hand a golden cup full of abominations and the filthiness of her fornication. And on her forehead a name was written:
Mystery, Babylon the great, the Mother of Harlots and of the Abominations of the Earth.
And I saw the woman, drunk with the blood of the saints and with the blood of the martyrs of Jesus. And when I saw her, I marveled with great amazement."
Bill, when it comes to Mystery Babylon there are questions like who, and what, and where. Let's start with the where. Dr. John Walvoord holds to the most popular view in his Bible Knowledge Commentary believing that this Mystery Babylon, this prophetic Harlot, is actually the future rebuilt city of Babylon. Do you agree?
Bill Salus: I confirm that Dr. Walvoord holds the popular view, also held by other Bible experts such as Dr. Mark Hitchcock, Joel Rosenberg, and quite a number of others. Various Bible prophecy teachers adhere to one of several potential candidate cities being Mystery Babylon.
We are told in Revelation 17-18 that Mystery Babylon will be a great city. I remind people that, according to 2 Peter 1:20, no prophecy is subject to private interpretation. So, we have to look at the details of the prophecy. We've got to weed through the various interpretations given for the different candidate cities and narrow the list down to the actual one. There are five main candidate cities, and four of them cannot be the right ones.
__________________________________________________________________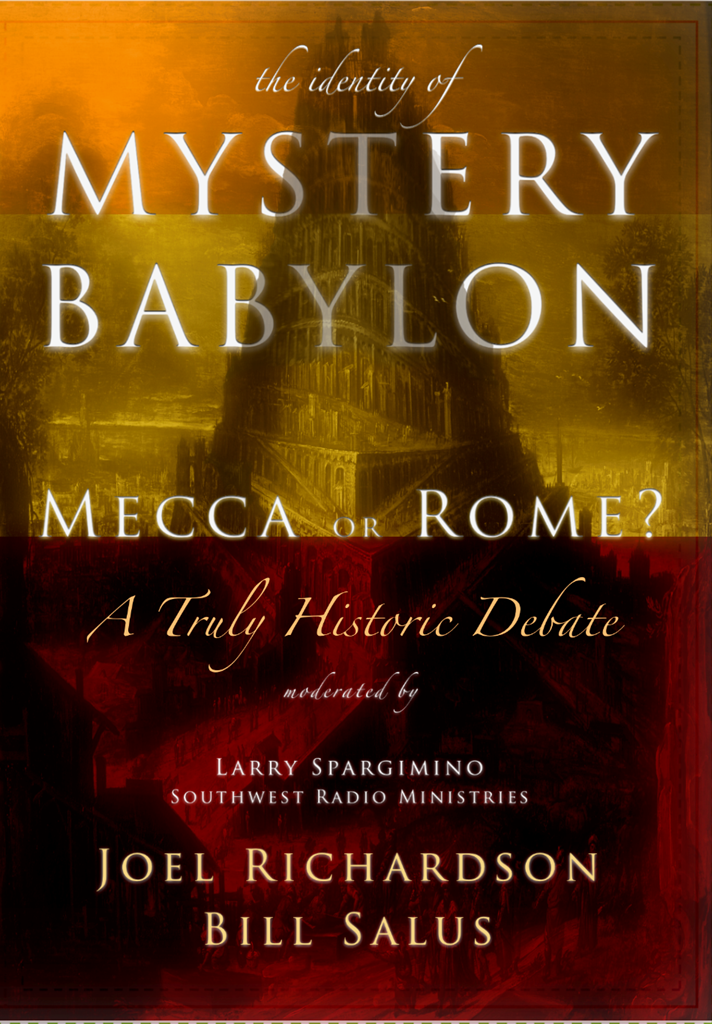 CLICK HERE TO PURCHASE THE DVD featured on this TV show called, "THE IDENTITY OF MYSTERY BABYLON, MECCA OR ROME."
Join two world class prophecy teachers Joel Richardson and Bill Salus in a historic debate. Where is "THE GREAT HARLOT" city of Revelation 17-18? Is it Mecca or Rome? Should prophecy watchers look to the central city of Islam in the heart of Saudi Arabia or to the capital of Roman Catholicism in Italy? Will Satan use Islam as the foundation for his final great deception or will continued apparitions of the Queen of Heaven and Roman Catholic Eucharistic miracles be used to lead people astray? Answers to these and many more questions are provided in this timely and enlightening 3-hour debate.
CLICK HERE to purchase your copy for $19.95 plus shipping & handling.
____________________________________________________________________
I'm not advocating that I know for sure which is the correct one, but I think the body of evidence sways towards the direction of Rome. That will be my argument.
There are three primary reasons why I have concerns with Mystery Babylon being a rebuilt Babylon.
Let's start with reason number one, and let's focus on "rebuilt." Unlike the other four candidate cities, Babylon is not a significant city right now. Saddam Hussein tried to rebuild it a little bit. The other candidate cities are already significant cities and so they could easily become that prophesied city, but the bottom line is the Antichrist would have to rebuild Babylon. To this day it's located in a war-torn area due to schisms between the Shiites and the Sunnis, causing the complete rebuilding of Babylon unlikely. Some of the advocates for a rebuilt Babylon remind us that Dubai was built very rapidly into a city, and so could Babylon, but that seems highly unlikely within the limited Tribulation time-line.
For reason number two, let's focus on the "Mystery" of Mystery Babylon the Great, the Mother of Harlots and Abominations of the Earth. By definition, in the Old Testament a mystery was something that was concealed. In the New Testament, it is revealed. An angel reveals this mystery to us in Revelation 17:7-18. He tells us in verse 9 that Mystery Babylon will be "a city that sits on seven hills," which at the time when John wrote Revelation, was the notorious description of Rome. The Romans even had coinage at the time of the goddess Roma sitting on seven hills.
Verse 15 describes the Harlot's global reach across many tribes, tongues, peoples and nations. And, most importantly, verse 18 tells something significant. "The woman you saw," referring to Mystery Babylon in this vision given to John, "is the great city which reigns over the kings of the earth." So, let's break that down. The woman he saw, past tense, sits on the waters, meaning the multiple tribes, tongues and nations. And, the city reigns over the kings of the earth. There could only be one city that held such power at the time John wrote. He would clearly recognize Rome. The text doesn't say it will be the city that reigns over the kings, it says it is reigning.
Lastly, for reason number three, I find this to be a very disturbing verse for those others who advocate a city other than Rome as Mystery Babylon, and that is Revelation 18:20. "Rejoice over her, O heaven, and you holy apostles and prophets, for God has avenged you on her! God has judged her for the way she has treated you." God was referring to the martyrdom of the holy Apostles. That's two or more apostles plural had to be judged and executed under the present authorities of what this end times Babylon would eventually become. Peter, Paul, Andrew and Jesus' brother, James — these apostles were killed by the "Babylon" of their time, IE. Rome.
Look at some of these other candidate cities, particularly a rebuilt Babylon in Iraq. Which of the Apostles were killed in Babylon? Was it John? Was it Matthew? No! Not one of them were killed in Babylon.
Dr. Reagan: One argument against Babylon comes from the book of Isaiah. Isaiah prophesied that when Babylon is destroyed by the Medes it will become as Sodom and Gomorrah, never to be rebuilt again. Advocates of Mystery Babylon being a rebuilt Babylon will often claim Babylon wasn't destroyed in the same way as Sodom. Isaiah doesn't say that. He said Babylon would become as Sodom and Gomorrah. And, it has become as Sodom and Gomorrah — erased forever.
Nathan Jones: Isaiah 13:20 reads, "It will never be inhabited nor will be settled from generation to generation." Wouldn't a rebuilding of Babylon break that prophecy?
Bill Salus: Correct, yes. Isaiah 13 provides another textual argument I have against Mystery Babylon being a rebuilt Babylon.
In the second segment of our interview with Bill Salus identifying the city of Mystery Babylon, we'll explore Jerusalem as a potential candidate.