on Thursday, June 30, 2022 by
Bill Salus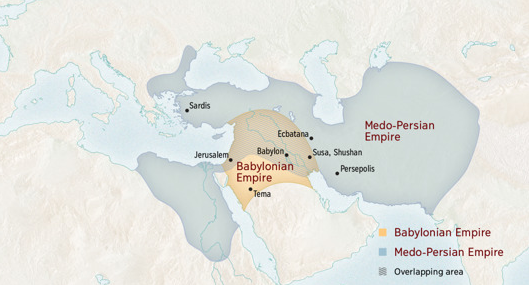 This article is taken from the upcoming, yet untitled, Bill Salus book that deals with all the future unfulfilled prophetic wars. It will show how God can work through Gentile empires to wage war and accomplish His purposes. The Babylonian conquest fulfilled a disciplinary judgment by God of the Jews who were apostate and worshipping idols. The Persian War that followed ended this judgment and restored the Jews back to their homeland and their God.
The (prophecy fulfilled) by the Babylonian Conquest is provided in the passages below.
"Therefore thus says the Lord of hosts: 'Because you, (apostate Jews), have not heard My words, behold, I will send and take all the families of the north,' says the Lord, 'and Nebuchadnezzar the king of Babylon, My servant, and will bring them against this land, (of Judah), against its inhabitants and against these nations all around, and will utterly destroy them, and make them an astonishment, a hissing, and perpetual desolations." (Jeremiah 25:8-9; emphasis added)
"And this whole land, (of Judah), shall be a desolation and an astonishment, and these nations shall serve the king of Babylon seventy years." (Jer. 25:10; emphasis added)
Jeremiah prophesied that Nebuchadnezzar the king of Babylon would become God's servant to take the Jews captive and make the land of Judah desolate. This dispersion and desolation was determined to last seventy years. Nebuchadnezzar was unaware that his war actions were going to serve God's purpose of disciplining the Jews, but Jeremiah let his Jewish brethren know that this king of Babylon was utilized as a servant of God.
Through a series of three of Babylonian sieges between 609-597, 587-586 and 582-581 BC, the Jews went into captivity in Babylon where they remained for seventy years. At the end of the seventy years Babylon was defeated in 539 BC by the Persian War.
The (prophecies fulfilled) by the Persian War and are identified and commented upon below.
"'Then it will come to pass, when seventy years are completed, that I will punish the king of Babylon and that nation, the land of the Chaldeans, for their iniquity,' says the Lord; 'and I will make it a perpetual desolation.'" (Jer. 25:12)
This is a two-part prophecy. Part one addresses the fact that the king of Babylon will deserve punishment for Babylon's iniquity. This judgment coincided with the seventy years of Jewish exile in Babylon. This punishment of Babylon would end the prophesied period of Jewish captivity.
Part two is the making of Babylon into a "perpetual desolation." This is yet a future prophecy that will be fulfilled during the Millennium period according to Isaiah 13:9, 20 and Jeremiah 51:41-43.
The next prophecy explains how God plans to restore the Jews after seventy years of diaspora to their homeland and give them a future and a hope. This prophecy evidences that the seven decades of exile were intended to discipline the Jews and ultimately turn their attention back to God.
"For thus says the Lord: After seventy years are completed at Babylon, I will visit you and perform My good word toward you, (Jews), and cause you to return to this place. For I know the thoughts that I think toward you, says the Lord, thoughts of peace and not of evil, to give you a future and a hope. Then you will call upon Me and go and pray to Me, and I will listen to you." (Jer. 29:10-12; emphasis added)
The prophecies below point out that, like God used King Nebuchadnezzar of Babylon as His servant, He also subsequently used King Cyrus the Great of Persia as His shepherd. Over one-hundred years before King Cyrus was born, the prophet Isaiah whose ministry spanned between 740-701 BC, foretold this Persian king's future.
"Who says of Cyrus, 'He is My shepherd, And he shall perform all My pleasure, Saying to Jerusalem, "You shall be built," And to the temple, "Your foundation shall be laid." '" (Isaiah 44:28)
In the next passage, Isaiah continues to provide more crucial details about the part that King Cyrus would play in the grand scheme of God on behalf of the Jews.
"Thus says the Lord to His anointed, To Cyrus, whose right hand I have held— To subdue nations before him And loose the armor of kings, To open before him the double doors, So that the gates will not be shut: 'I will go before you And make the crooked places straight; I will break in pieces the gates of bronze And cut the bars of iron. I will give you the treasures of darkness And hidden riches of secret places, That   you may know that I, the Lord, Who call you by your name, Am the God of Israel. For Jacob My servant's sake, And Israel My elect, I have even called you by your name; I have named you, though you have not known Me. I am the Lord, and there is no other; There is no God besides Me. I will gird you, though you have not known Me." (Isaiah 45:1-5)
When Isaiah's prophecies were read to King Cyrus he was astounded and said,
"Thus says Cyrus king of Persia: All the kingdoms of the earth the Lord God of heaven has given me. And He has commanded me to build Him a house, (the second Jewish Temple), at Jerusalem which is in Judah. Who is among you of all His people? May his God be with him, and let him go up to Jerusalem which is in Judah, and build the house of the Lord God of Israel (He is God), which is in Jerusalem. And whoever is left in any place where he dwells, let the men of his place help him with silver and gold, with goods and livestock, besides the freewill offerings for the house of God which is in Jerusalem." (Isaiah 45:2-4; emphasis added)
What was the role of the LORD in these wars?
The LORD did not fight these two wars, but He foretold of them and likely initiated them in order two accomplish the following purposes. King Cyrus was used to free the Jews from seventy years of captivity, provide them with great riches and restore them back to their homeland. The Babylonian Conquest and the subsequent Persian War accomplished God's master plan for the Jews, first to disperse and discipline the Jews and second, to restore them to their homeland.
Reviewing the prophetic roles played by King Nebuchadnezzar and King Cyrus reminds us of what Daniel the prophet pointed out over 2500 hundred years ago.
"And He, (the LORD), changes the times and the seasons; He removes kings and raises up kings; He gives wisdom to the wise And knowledge to those who have understanding." (Daniel 2:21, NKJV; emphasis added)
The wisdom to the wise and knowledge to those who have understanding, in the case of these two former kings, was that God raised them both up for His sovereign purposes.
LISTEN TO THE RELATED RADIO SHOW BELOW.