on Thursday, January 17, 2013 by
Bill Salus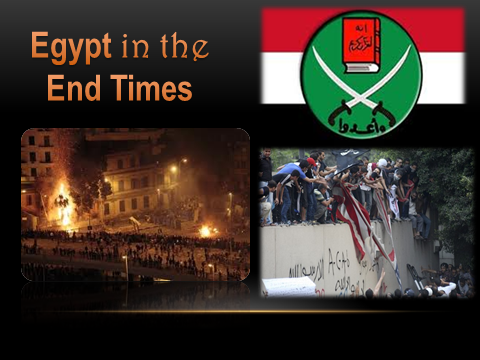 You are invited to watch a teaching video from my new book called PSALM 83, The Missing Prophecy Revealed, How Israel Becomes the Next Mideast Superpower. Ezekiel 29:15 predicts that Egypt is about to become the lowliest earthy kingdom. The old saying, "As goes Egypt, so goes the entire Middle East," will soon no longer be an accurate quote! This PowerPoint presentation entitled, "Egypt in the End Times," was delivered on December 31, 2012.
Click here now to WATCH THE TEACHING VIDEO FROM CALVARY CHAPEL SPOKANE, WASHINGTON. (Video may take a minute to display).
The associated article that accompanies with this teaching video can be read HERE.
The teaching video has an additional video inside of it pertaining to the presidential campaign of Mohammed Morsi in May of 2012. To view the entire Muslim Brotherhood video shown inside this teaching video, visit this LINK.
PSALM 83, The Missing Prophecy Revealed – Introduction & Endorsements
PSALM 83, The Missing Prophecy Revealed presents the reader with an abundance of important prophetic information. It is a compilation of over eleven years of specific biblical examination that was prompted by the terrorist attacks on September 11, 2001. Initially, some of this research was published in the summer of 2008, in my book Isralestine, The Ancient Blueprints of the Future Middle East.
Isralestine explored in significant detail, the prelude, episode, and aftermath of the epic Psalm 83 Arab – Israeli war, and hypothesized that Israel would win decisively and subsequently succeed in becoming a greater and safer Jewish state. The book also theorized that the Psalm 83 prophecy appears to be an imminent event that should find fulfillment before the infamous seven – year "Tribulation Period" commences. Moreover, Isralestine explained why it was probably an entirely different event than the much popularized prophecy described in Ezekiel 38 and 39, commonly called the Gog of Magog Invasion.
Due to Isralestine's comprehensive look at Psalm 83, which was a relatively unexplored prophecy up to that point, it caught the positive attention of many of today's top Bible scholars.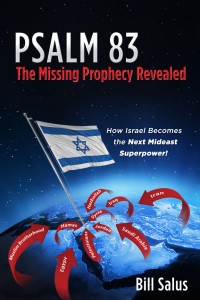 "Isralestine answered Bible prophecy questions I have had for many years." – Joseph Farah – World Net Daily
"New, invaluable insights to Middle East Bible prophecy" – Dr. David Reagan, Lamb and Lion Ministries
"A most important Bible prophecy book for our times" – Chuck Missler – Koinonia House
"A must-read to understand Mideast Bible Prophecy" – Jonathan Bernis – Jewish Voice Television Ministries
"I wish I would have written Isralestine." – Dr. David Hocking – Hope for Today Ministries
"Isralestine presents valid arguments" - Dr. Arnold Fruchtenbaum – Ariel Ministries
"Bill's in-depth study of Psalm 83 and related Scriptures provides vital information to understanding the end-times scenario." – Jim Tetlow – bestselling author – Eternal Productions
"Bill Salus presents a believable case in describing the prophecy in Psalm 83." – Terry James – Co-founder of Rapture Ready and bestselling author
"Salus presents a valid, convincing case concerning Psalm 83 as a Bible prophecy." – Eric Barger – Take a Stand Ministries
"Salus has discovered an amazing prophecy that has been hidden from most, until now." – Tom Horn – Raiders News Network and bestselling author
"Isralestine points out that Psalm 83 may be why the Arab nations are largely absent from Ezekiel 38." – Jacob Prasch – Moriel Ministries
"In Isralestine, the distinguishing of a Psalm 83 war from the Ezekiel 38 war was enlightening". – Gary Fisher - Lion of Judah Ministry
However, not everyone agreed with my Psalm 83 hypothesis that was presented in Isralestine. Some raised the following objections:
1. Psalm 83 was merely an imprecatory prayer of lament concerning all of Israel's historic enemies.
2. The Psalm found historical fulfillment in the Old Testament, namely in 2 Chronicles 20.
3. The Psalm prophecy found fulfillment in the Arab – Israeli wars of 1948, and / or 1967.
4. Psalm 83 is not a separate prophecy but is one and the same with Ezekiel 38.
5. Psalm 83 is part of the Armageddon scenario that finds fulfillment in the Tribulation Period.
PSALM 83, The Missing Prophecy Revealed ADDRESSES ALL OF THE ABOVE…BE SURE TO ORDER YOUR COPY TODAY…