on Monday, January 21, 2013 by
Bill Salus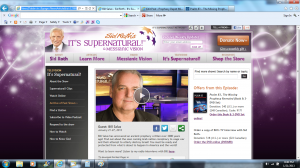 Sid Roth is the first television host to feature Bill's new book called, Psalm 83, The Missing Prophecy Revealed, How Israel Becomes the Next Mideast Superpower.
WATCH THE IT'S SUPERNATURAL TV SHOW AT THIS LINK or click the image.
Future television interviews have also been prerecorded with Jewish Voice TV, Prophecy in the News TV, and Stakelbeck on Terror, which will all be posted on this site when they are shown on the top popular Christian TV stations.
Moreover, listen to five radio shows that air on Messianic Vision Radio, which is hosted by Sid Roth's "It's Supernatural." Sid interviews Bill about his new book.
Click HERE now to listen to these fascinating radio interviews.