on Wednesday, September 3, 2008 by
Bill Salus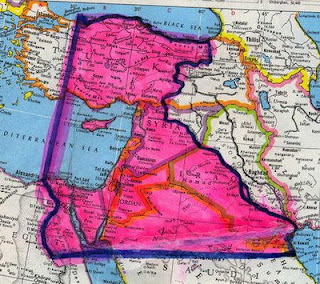 America the beautiful, but rapidly becoming less bountiful, has presently found itself in a precarious position. Economic misery, coupled with bad Middle East company, has the Bush Administration feverishly focused on forcing the infamous Roadmap Plan for Peace into immediate implementation.
While Condoleezza Rice is scurrying about, in an attempt to open escrow on a performance based Two-State Solution in the Holy Land, the ancient enemies of Israel are restocking their deadly arsenals.
Undoubtedly the time has come for the United States to get in with the theopolitical program or get out of the geopolitical theater. Although Short Sales run rampant in America, foreclosing on Israel in the end times is not biblically endorsed!
Modern day Israel miraculously exists in fulfillment of Bible Prophecy, and unless the Judeo-Christian Jehovah fibbed about Abraham's future fortunes in Genesis 15:18, portions of Egypt, Jordan, Lebanon, Syria, and Saudi Arabia belong to, and are about to be possessed by, the modern day Jewish State.