on Wednesday, November 23, 2011 by
Bill Salus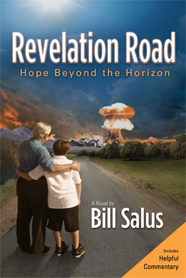 You are invited to a one-of-a- kind reading experience. Enjoy a thrilling novel and a biblical commentary ripped from today's headlines at the same time. The modern world has been thrust into chaos and uncertainty. Iran's nuclear threat; the Arab Spring; the toppling of long-ruling despots and the power vacuum left in the wake; Israel's security under attack from hostile powers abroad and wavering support here at home.
Modern dangers? Yes, but calamities foretold in the Bible thousands of years ago. Revelation Road explains the events occurring on our darkening horizon and their Biblical significance. America's economic house-of-cards and political instability, the Rapture of the Church and the void created by its disappearance and the subsequent rise of a world religion. Experience the End Times through the eyes of the Thompson family.
George Thompson believes his grandson Tyler lives in the final generation. Lovingly, he prepares the lad for the treacherous road ahead. All young Tyler wanted was a chance to join his sister at Eastside Middle School in the fall, but Middle East war and nuclear terror in America turned Tyler's world upside down.
Join them on their journey and discover how their gripping story uncovers the silver lining of hope against the backdrop of global gloom and doom.
Bill Salus has crafted a unique novel with a non-fiction commentary, that serves as an eye-opening herald call to all believers and non-believers alike!
Read Revelation Road and ask yourself, "What would you and your family do?"
You can pre-order an autographed copy of Revelation Road today for $19.95 by clicking here. Estimated release date for Revelation Road is on or before January 2012.