on Monday, April 16, 2012 by
Bill Salus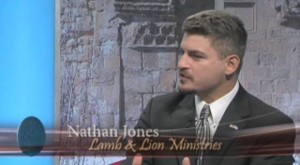 This week on Prophecy Update Radio, Bill Salus interviews Nathan Jones, the webmaster of Dr. David Reagan's Lamb and Lion Ministries, and co-host of the Christ in Prophecy TV show. Nathan is one of today's foremost experts on the topic of utilizing modern technologies to comprehensively discern Bible prophecies. Daniel 12:4 predicted that both travel, and knowledge would increase in the end times, and Nathan explains how this is occurring exponentially.
This 2-part show is guaranteed to inspire the listeners, and to encourage them to recognize how important it is to incorporate today's technologies into their Bible studies. Additionally, Nathan explains how important the social networks like YouTube, Facebook, and Twitter can be in advancing the gospel to the uttermost parts of the world.
Click here to watch insightful 60-second Bible prophecy videos featuring Nathan Jones.