on Monday, April 16, 2012 by
Bill Salus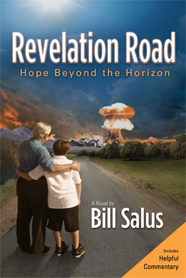 Jonathan Bernis and Bill Salus show how ancient prophecies have become today's top headlines. Jeremiah 49:34-39 informs that Iran has fiercely angered the Lord, and predicts that because of this the rogue state will be severely struck at the "foremost of its might!" Isaiah 17, and Jeremiah 49:23-27 both warn that Damascus will be destroyed!
Watch Bill and his good friend Jonathan unravel these rapidly developing Bible prophecies on Jewish Voice TV. This extremely timely program explains how Bill's brand new book richly blesses the reader with important REVELATION for the rough ROAD ahead.
Click HERE to watch this program on YouTube now, or HERE to view the original broadcast in HD.
Revelation Road is a unique one-of-a-kind reading experience that combines a 120-page novel with 312-pages of extensive biblical commentary. World Net Daily book reviewer Jim Fletcher says "it's one of the best fiction efforts I've ever read in the genre," and compares it to the bestselling "Left Behind" series written by Tim LaHaye and Jerry Jenkins.
"I've been studying Bible prophecy for 20 years, and I'm not sure I've ever seen a better, more creative presentation of this all-important subject than Bill Salus's new novel and extensive biblical commentary, Revelation Road. This unique format could become a writing formula for the future! The storyline is believable and engaging, and the bonus for the reader is the impeccable, absorbing research that has become a hallmark of Bill's writing. I enthusiastically endorse this book and encourage you to give copies to those in your circle of influence. You will thoroughly enjoy the story, exhaustive commentary, and the evangelistic heart of the author!" — Jim Fletcher, WORLD NET DAILY book reviewer
Click here to read the entire World Net Daily, Rapture Ready, Christian Post, Amazon, and many other REVELATION ROAD, HOPE BEYOND THE HORIZON reviews.
Are these the last days? What is the future for America? What will happen next in the Middle East? What is the HOPE BEYOND THE HORIZON?
New invaluable prophetic insights are imparted as these questions and many more are answered on this television broadcast.