on Monday, August 6, 2012 by
Bill Salus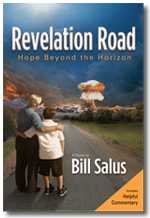 War clouds are hovering densely over the Middle East, and geo-political conditions are observably deteriorating inside the Holy Land as a result of the Arab Spring. One nearby morning the world is likely to wake up to Mideast missiles flying in every direction. And, when that happens Americans need to be prepared for the consequences of a major regional conflict.
Land for peace deals and two – state solutions between the Palestinians and Israelis have reached a dead end, and when diplomacy fails, wars begin. The international community has had 64 – years to resolve the Arab – Israeli conflict since Israel was rebirthed as a nation, but all efforts have failed.
Israel is about to take military matters into their own hands, they have to it's a matter of survival for the Jewish state.
Dr. Stan Monteith of Radio Liberty interviews author, researcher, and Bible prophecy expert Bill Salus, about what's next in the Middle East. Is war coming, and will be of epic biblical proportion?
In this interview Dr. Monteith also gives a 5 – star review of Bill's new book Revelation Road, Hope Beyond the Horizon.
Click the following link to listen to Dr. Stan Monteith of Radio Liberty interview Bill Salus.