on Tuesday, August 21, 2012 by
Bill Salus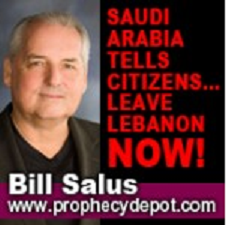 Syndicated radio host Bill Martinez, of Bill Martinez Live, interviews Bill Salus, the author of Revelation Road, Hope Beyond the Horizon and noted prophecy expert about the latest volatile developments in the Middle East. The interview begins by discussing an August 15, 2012 Reuters news article called Saudi Arabia tells citizens to leave Lebanon immediately, but then quickly burgeons into a discussion about the prophetic implications of current Mideast events.
(Reuters) – Saudi Arabia has ordered its citizens to leave Lebanon "immediately", the state news agency reported in an SMS alert on Wednesday.
This is the notice reported last week by Reuters, "The Saudi Arabian embassy in Lebanon calls all Saudi citizens to leave Lebanon immediately," the alert said, without elaborating. Shortly after this announcement, Saudia Arabia and Qatar told their citizens to leave Lebanon too.
The Saudi notice came right after the Arab states met to discuss the Syrian and Iranian issues. Very little was reported in the main stream media but Bill Salus, myself and others are seeing this as an ominous portend. Then came the kidnapping by Lebanese Shi'ite gunmen of more than 20 Sunnis in retaliation for the capture of their Syrian kinsman.
Qatar, Saudia Arabia and Turkey are all led by Sunnis and support the Sunni Muslim rebels fighting against the Assad regime.
Bill M. and Bill S. explain how newsworthy events developing daily in the Holy Land imply that war appears inevitable. But, will it be just another minor Mideast skirmish, or will it mushroom into a nuclear war of epic biblical proportion?
Click here to listen to this critical interview at Bill Martinez Live and to learn more about current Middle East concerns.