on Thursday, August 23, 2012 by
Bill Salus
At the time of the Arab Spring of 2011 the time liberal pundits in America sincerely believed that the social networks of Facebook, YouTube, and Twitter were providing the affected Arabs a genuine glimpse outside the confines of seventh century Islam and state censored media into life, liberty, and the pursuit of happiness. As a result they speculated that western style democracies would become commonplace throughout the Middle East. However these days the Arab Spring is looking more and more like the ARAB APOCALYPSE!
On the Wall radio with Randall and Stacy Harp interview Bill Salus about the coming Arab Apocalypse. The show begins as a cozy three – way discussion, but soon dives into the current events complicating the Middle East. Daily news headlines coming out of the volatile Mideast region are staggering and evidencing that war is coming.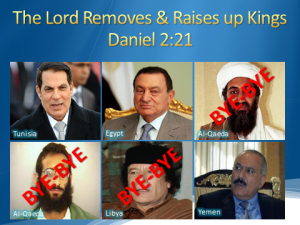 Bill reminds that the bottom line of the Arab Spring is summed up in Daniel 2:21, which says; And He changes the times and the seasons; He removes kings and raises up kings; He gives wisdom to the wise And knowledge to those who have understanding. Arab leaders have been deposed and new ones, like Muslim Brotherhood member Mohammed Morsi have been raised up. Bill points out that the leaders that have been removed were probably the least threatening to Israel, but the ones still in place want to wipe Israel off the map.
Click the following link to to this informative On the Wall radio broadcast featuring Bill Salus.