on Sunday, August 4, 2013 by
Bill Salus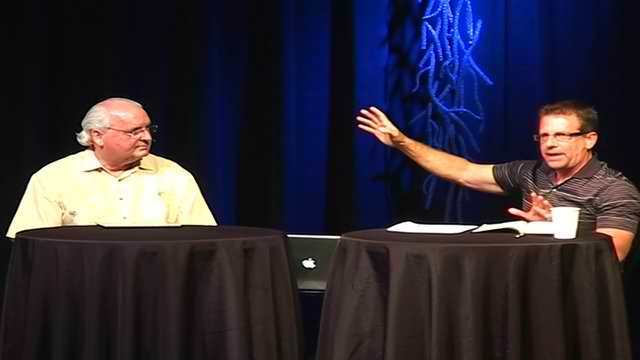 You are invited to WATCH a fascinating Bible prophecy discussion between Pastor Tom Hughes of Calvary Chapel San Jacinto (412 Church) and Bill Salus. Pastor Tom Hughes hosts a weekly Sunday night prophecy service that is attended on average by over 800 congregants.
Pastor Tom sometimes likes to set up an informal setting on the stage to interview Bill. During these sessions, Tom asks pertinent end time's Bible prophecy questions. Additionally, Pastor Tom also exposits his qualified views on many of the subjects.
Below are some of the topics discussed in this Q and A session conducted on July 21, 2013.
• The 2-State Solution for peace between the Israelis and Palestinians.
• The rebuilding of the Jewish Temple.
• The coming harlot world religion of "Mystery Babylon."
• The destruction of Damascus predicted in Isaiah 17.
• The possible fulfillment of Isaiah 19 through current events in Egypt.
• The "Mark of the Beast" and NSA, IRS, activities in America.
Click HERE to watch this timely and important Q and A session now.
Also plan to come to the 412 Church prophecy conference in April 25-27, 2014. The scheduled speakers are Tim LaHaye, Dr. David Reagan, Don Perkins, Jacob Prasch, and Bill Salus. More information will be posted on this site when it is available.