on Wednesday, August 7, 2013 by
Bill Salus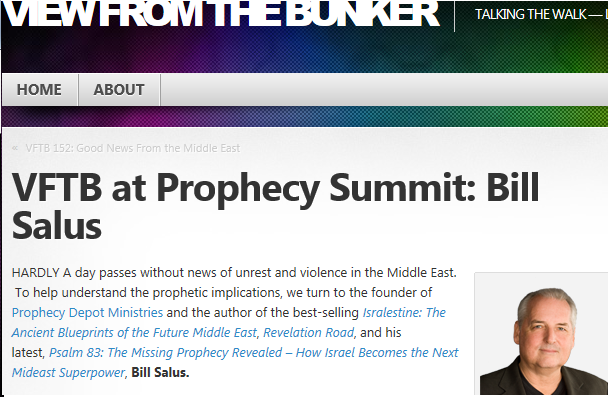 Recently Bill Salus was interviewed as one of the featured speakers of the Pike's Peak Prophecy Summit sponsored by Prophecy in the News. The conference consisted of 28 speakers appearing in 70 sessions over the period of 3 days. It was the granddaddy of prophecy conferences.
The host of the conference, Prophecy in the News, will be offering a complete DVD package of the entire event in the near future, and when they are available we will be posting the pertinent information to purchase the DVD set on our Prophecy Depot Ministries website.
The Bill Salus interview featured his Psalm 83 book, which became the best selling book ever offered through Prophecy in the News Ministries. This radio show, that you can listen to at the link below, was scheduled to be posted in November of 2013 but the information was considered so time sensitive that the radio host, Derek Gilbert from "Under the Bunker," decided to post the interview August 7, 2013, three months ahead of schedule.
You are invited to hear a sneak preview of this important radio interview called The Psalm 83 Peripheral Prophecies. The peripheral prophecies are primarily concerned with the future judgments of Egypt, Syria, and Iran.
A few questions that Bill addresses in this interview are:
1. Are current events in Egypt fulfilling Isaiah 19?
2. When will Egypt experience the 40-years of desolation in Ezekiel 29:10-16?
3. When will Damascus be destroyed in Isaiah 17?
4. Will there be desolation in other Syrian cities at the time?
5. What is Iran's double jeopardy in end times Bible prophecy?
Click HERE to listen to this important interview now. You can also click HERE to listen to the MP3 link.