on Wednesday, September 10, 2014 by
Bill Salus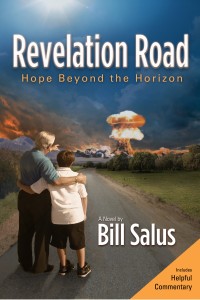 Revelation Road, Hope Beyond the Horizon is a unique reading experience. It combines a novel with a helpful biblical commentary. The book was designed to put the fulfillment of end time's Bible prophecies into a storyline. It's one thing to read about biblical predictions, but it is often hard to imagine what it would be like to actually experience them. These foretellings are world changing events that are about to unfold.
Southwest Radio was so intrigued with Revelation Road, that they recently interviewed Bill Salus about his unique and timely book. Host, Larry Spargimino asks Bill Salus to take the listeners on a journey filled with Revelation for the rough Road ahead.
CLICK HERE to read the Revelation Road, Hope Beyond the Horizon book reviews
CLICK HERE OR ON THE BOOK IMAGE TO BUY THE BOOK NOW.
………………………………………….
REVELATION ROAD BOOK TRAILER

Southwest Radio write up about these important interviews.
Bill Salus, author of the popular book Psalm 83: The Mission Prophecy Revealed, returns to talk about the amazing end-time Bible prophecies that are being fulfilled right before our eyes. Bill also explains how he has incorporated these prophecies into a new book, Revelation Road, in order to reach more lost people before the Rapture.