on Tuesday, December 9, 2014 by
Bill Salus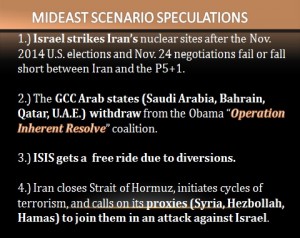 Are the apocalyptic Bible prophecies of Psalm 83, Isaiah 17, and Jeremiah 49 (Elam) about to find fulfillment? If so, which one comes first, and how does it trigger the other prophecies? Watch the video below to see Gary Stearman and Bill Salus explore a Shocking 2015 Mideast scenario that is not too far-fetched.
In this prophecy briefing video, portions of this 9-point scenario are discussed.
1.) Israel strikes Iran's nuclear sites after the Nov. 2014 U.S. elections and Nov. 24 negotiations fail or fall short between Iran and the P5+1.
2.) The GCC Arab states (Saudi Arabia, Bahrain, Qatar, U.A.E.) withdraw from the Obama "Operation Inherent Resolve" coalition.
3.) ISIS gets a free ride due to diversions.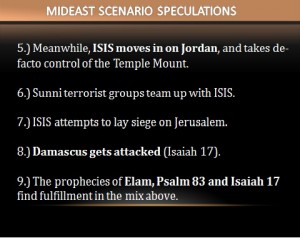 4.) Iran closes Strait of Hormuz, initiates cycles of terrorism in America, and calls on its proxies (Syria, Hezbollah, Hamas) to join them in an attack against Israel.
5.) Meanwhile, ISIS moves in on Jordan, and takes de-facto control of the Temple Mount.
6.) Sunni terrorist groups team up with ISIS.
7.) ISIS attempts to lay siege on Jerusalem.
8.) Damascus gets attacked (Isaiah 17).
9.) The prophecies of Elam, Psalm 83 and Isaiah 17 find fulfillment in the mix above.
WATCH GARY STEARMAN INTERVIEW BILL SALUS