on Wednesday, December 17, 2014 by
Bill Salus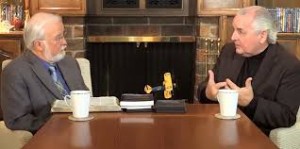 Prophecy Watchers TV, hosted by Gary Stearman, interviews prophecy expert and Psalm 83 author Bill Salus on this timely television broadcast. Gary Stearman, formerly the host of Prophecy in the News TV, is back in the saddle again in his new role at Prophecy Watchers.
In this interview Gary and Bill unpack an ancient prophecy that appears to be ready for it's fulfillment. Join them as they do a verse by verse study of Jeremiah 49:34-39 concerning the territory of Elam, which is located in modern day Iran. This show takes the viewer behind the scenes to contemplate the events that may soon lead to Israel's attack on Iran's burgeoning nuclear facilities. Did the prophet Jeremiah predict these events 2,500 years ago?
As Christianity explodes in Iran, world events are at a fever pitch. Will Israel strike Iran soon? Will Russia get involved? How does ISIS fit into the picture? Few people have an understanding of Middle East events like Bill Salus. The nuclear showdown is almost here!