on Monday, January 26, 2015 by
Bill Salus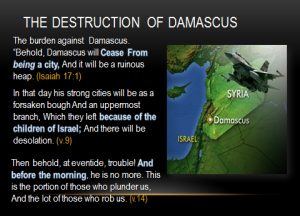 ISIS already controls parts of northern Syria, and now seems to have set its site on Damascus, Syria's capital city. Damascus is the subject of a 2700 year old prophecy written in Isaiah 17. The prophecy says that Damascus will someday cease from being a city. Is it possible that this prophecy is about to find its fulfillment? And, will ISIS have anything to do with it?
ISIS and the ISAIAH prophecy are the primary subjects of this edition of the Prophecy Update Radio program. Bill Salus and his good friend Bible prophecy expert and evangelist Al Gist explore the possible connections. This program also briefly explains the origins of this dangerous ISIS terrorist organization. Al Gist is the founder of Maranatha Evangelistic Ministries.
CLICK HERE to listen to this timely and important radio show.
Al Gist travels throughout the country speaking at conferences and churches. He also leads tours to Israel. Click HERE contact Al Gist.