on Wednesday, March 25, 2015 by
Bill Salus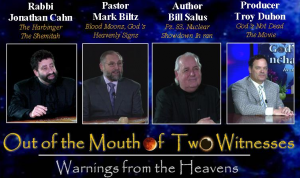 Many biblical scholars are now claiming that we are living in the end days, and many prophetic events are lining up that point to that possibility. OUT OF THE MOUTH OF TWO WITNESSES, WARNINGS FROM THE HEAVENS discusses these possibilities through information revealed by Rabbi Jonathan Cahn, Pastor Mark Biltz and author Bill Salus.
Candid interviews with Cahn, Biltz and Salus point out that biblical cycles, heavenly signs and current world events suggest that mankind is living deep into the end times. These interviews have been made into a TV special as well as into a DVD. The DVD will soon be made available and more information will follow.
The first TV show will air on the night of the third blood red moon on Passover, April 4, 2015.
WATCH THE TRAILER BELOW.