on Saturday, April 11, 2015 by
Bill Salus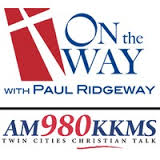 Host Paul Ridgeway from the "On the Way with Ridgeway" radio show interviews Bill Salus about the imminent prophecies about to occur. Topics like Psalm 83, Ezekiel 38, Jeremiah 49 and more are explored. Also, the future of America in Bible prophecy is discussed. Bill explains why he believes America is included in Ezekiel 38 as the young lions of Tarshish.
THIS SHOW EVIDENCES THE URGENCY OF THE HOUR. BILL SAYS THE FACT THAT THE BIBLE PROPHECIES ARE CONVERGING IMPLIES THAT MANKIND IS LIVING DEEP INTO THE END TIMES!
This radio show also promotes the upcoming April 17-19, 2015 prophecy conference with Jan Markell and Bill Salus. Click the image to learn more about this conference.