on Sunday, March 1, 2015 by
Bill Salus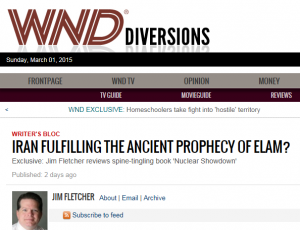 Hundreds of years before Christ, in the ancient empire of Persia, a fiendish plot was hatched. A palace officer named Haman decided to exterminate the Jews. We can read the account in the Bible's book of Esther, and it makes us realize some things never change. Persia is modern Iran.
Queen Esther foiled that plot, and the blowback on Haman was the ultimate punishment: he was hanged on the very gallows he built to murder Jews.
For Bible prophecy students, the whole affair is hair-raising in the extreme, because never before have nuclear weapons posed a threat to the state of Israel. Indeed, the Jewish state has never admitted to having nuclear weapons, and has "enjoyed" a nuclear-free Middle East.
UNTIL NOW!
Bill Salus has a new spine-tingler of his own, a new book, "Nuclear Showdown in Iran: Revealing the Ancient Prophecy of Elam."
Dear reader, if you are even remotely interested in Bible prophecy, you owe it to yourself to get a copy of "Nuclear Showdown." Salus has produced another sensational effort that is sure to stimulate much discussion as we peer into the rapidly unfolding near-future.
(Click HERE to read the entire review).
Buy the book / DVD bundle package.
Watch the book trailers below