on Friday, July 29, 2016 by
Bill Salus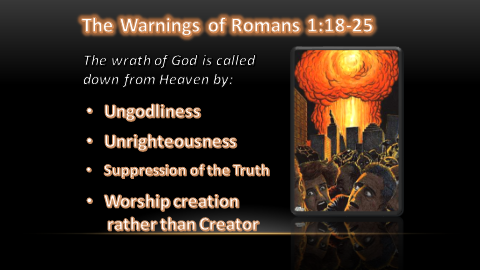 Sexual Sin! Abortion! Removing God and Prayer from the Schools! Idolatry! Adultery! Every perversion under the sun! Does the list really end? No; It only gets bigger! America has finally said goodbye, as a nation, to Jesus Christ. America wants to serve Satan. And now, Hell has arrived!
America has straight armed God out of its society and the Lord is revealing His wrath upon this nation. America lines up with Romans 1:18-25. The Lord has warned the USA through prophetic voices, remedial judgments and now the nation has the leaders that it deserves.
Lyn Leahz and Bill Salus interact again on the Lyn Leahz Show. Watch the show below. Lyn bares her soul by sharing her touching testimony. Bill explains how the nation of America has abandoned the Lord, but the Lord has not abandoned Americans who want to have a personal relationship with HIM! Click HERE to view their prior program.