on Monday, September 29, 2008 by
Bill Salus

These days it doesn't require much dusting to see that Russia is conspicuously etching its indelible fingerprints upon the Middle East. In a bid to regain superpower status, the ancient Muscovites are forming unprecedented alliances with Iran and Syria, the two primary enemies of modern day Israel.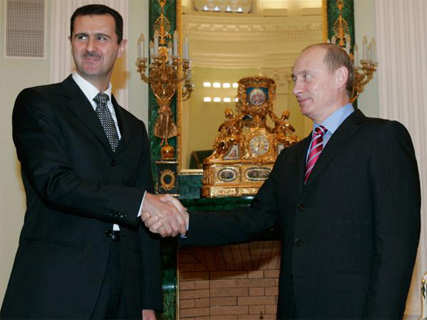 These strengthening ties, coupled with a 2600 year old Ezekiel prophecy, has end time eschatologists racing against the clock to publish their next cutting edge book.
For those unfamiliar with the Old Testament prophet, he foretells in his chapters 38 and 39 the coming of a Russian – Iranian led nuclear equipped coalition that invades Israel in the last days. For a litany of recent newsworthy reasons, all indicators point to this enormous episode occurring in the very near future.
Although volumes of Ezekiel invasion bestsellers should soon justifiably line world bookshelves, these authors must be cautious not to put the colloquial cart before the proverbial horse. Indeed Russia and Iran are ready to make their move, but what about Syria? Oddly Syria, who today panders alongside Iran for Russian affections, is not included among the elite 9 members of the Ezekiel 38 and 39 consortium of attacking nations. Why not, what knocks their quiver of missiles out of the Ezekiel military equation?
Read the entire article now at WorldNetDaily