on Thursday, March 24, 2011 by
Bill Salus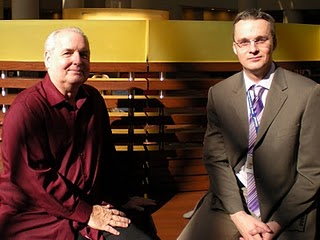 Christianity finds itself at a critical crossroad regarding the modern day Jewish State. The Arab unrest plaguing the Middle East is causing Christians to decide whether Israel is the "owner" or "occupier" of the Promised Land.
(Pictured (left) Bill Salus & (right) Dr. Paul Wilkinson)
Does Israel exist in fulfillment of Bible Prophecy, or is it simply the result of U.N. moral obligation? Christian Zionists believe Israel has a God given right to exist in the land allotted to Abraham, Isaac, and Jacob.
"To your descendants I have given this land, from the river of Egypt to the great river, the River Euphrates." (Genesis 15:18, nkjv)
This passage defines the vast boundaries of the Promised Land ranging from northeastern portions of Egypt to parts of Syria and Iraq. Presently, Israel is struggling to maintain possession of about one-tenth of this landmass. The international community and many Christians want Israel to give much of it back for a Palestinian State.
This week on Prophecy Update Radio the competing ideologies within Christianity of Christian Zionism and Christian Palestinianism are adeptly analyzed and adequately compared. Host, Bill Salus, welcomes his guest, Dr. Paul Wilkinson, to address this timely topic. Dr. Wilkinson, an expert on Christian Palestinianism, warns the Church is being overtaken by "Replacement Theologians promoting a Pro-Palestinian agenda."
In this fascinating two part broadcast Bill and Paul draw a line in the Mideast sand and challenge Christians to decide on which side they stand. Is God done with the Jew, or are prophesied Mideast events about to reveal the folly of Replacement Theology?
Listen Now to Part One
Listen Now to Part Two