on Thursday, January 26, 2012 by
Bill Salus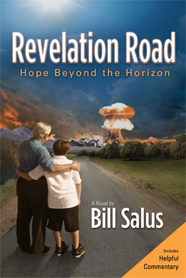 Prophecy Update Radio takes an in-depth look at Bill's brand new book Revelation Road, Hope Beyond the Horizon. Pastor Dave Hart and Bill provide a chapter-by-chapter synopsis of this one-of-a-kind book that combines a novel with a helpful biblical commentary. In this 4-part program, Revelation Road is revealed from cover-to-cover. This interview is guaranteed to pique your interest. (Programs may download somewhat slowly depending on your media program)
CLICK HERE to listen to Part 1
CLICK HERE to listen to Part 2
CLICK HERE to listen to Part 3
CLICK HERE to listen to Part 4
Keep stride with Dave and Bill by viewing the book's table of contents here while listening to the interview.
View book trailer here. Order Revelation Road here.
Some of the topics discussed in this comprehensive interview are the;
* Dual End Times Prophecies of Iran (Ezekiel 38 and Jeremiah 49),
* Iranian Proxy War Against Israel Could Involve Chemical Weapons,
* Strategic Strike Upon Iranian Nuclear Sites,
* Psalm 83 Arab-Israeli War,
* Destruction of Damascus (Isaiah 17),
* Ezekiel 35 – Psalm 83 Connection,
* How Middle East Wars Adversely Affect America,
* Future for America,
* Terrorists Attack America Again,*
* Ezekiel 38 (Gog of Magog Invasion),
* Gog's Evil Plan to Invade Israel,
* Israel Expands Territorially Into the Next Emerging Market,
* Israel Makes Plans to Build a Third Temple,
* End Times Christian Survival verse Christian Denial,
* Rapture of the Church,
* After the Rapture the World Gets Religious,
* Pre-Tribulation Gap Prophecies,
A Message For Those Left Behind.