on Wednesday, February 1, 2012 by
Bill Salus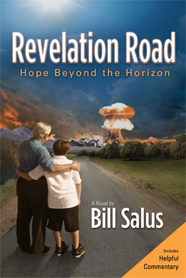 BIBLE'S REVELATION COMES TO LIFE!
WND EXCLUSIVE: Jim Fletcher reviews sizzling novel ripped from today's headlines
"Revelation Road" is a truly unique novel, presenting a gripping story with an actual commentary, explaining terms and concepts that might be unfamiliar to many. This is one of the chief assets of "Revelation Road," since I've long thought that Bible prophecy teachers fail to explain those terms and concepts that are now archaic to modern audiences."
"I must say, Salus is one of the best and most thorough researchers I've run across, and this project and its readers are the beneficiaries of that singular skill. I learned a ton… Now, he has tried his hand at fiction – but that term is not quite accurate, given the current headlines! It's one of the best fiction efforts I've ever read in the genre."
Click here to read Jim Fletcher's entire Revelation Road review.