on Wednesday, May 29, 2013 by
Bill Salus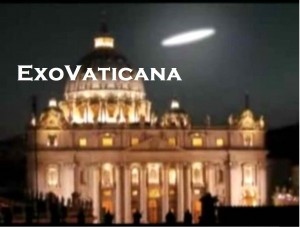 What non-linear event might catapult the world religion of the end times into place? Could it be increased Mary Apparitions, or perhaps a persuasive Extra-Terrestrial presence that manipulates the spiritual perceptions deeply embedded within the mindsets of mankind? According to Scripture something spectacular seems to happen that elevates the Vatican's role to be the reigning spiritual entity of the last days.
Revelation 17:5 likens the coming world religion to the "Mother of Harlots." Many eschatologists connect the Vatican with this harlot. However, Revelation 17:6 declares that the harlot is drunk with the blood of the saints and the blood of the martyrs of Jesus; how could today's Vatican qualify as a legitimate candidate for this religious role? Presently, the Vatican is not executing non-Catholics!
In this installment of Prophecy Update Radio, host Bill Salus interviews author Cris Putnam about his brand new bestselling book with Tom Horn called Exo-Vaticana. Bill and Cris unpack the dual deceptions (Harlot & Antichrist) that will overwhelm mankind in the end times as predicted in 2 Thessalonians 2:10-11. Apparitions, Aliens, and the Antichrist all seem to be integrated into the end time's scheming of Satan. Find out how this devilish last days campaign could play out by listening to this cutting edge three-part radio show.
Click HERE to listen to PART ONE
Click HERE to listen to PART TWO
Click HERE to listen to PART THREE