on Wednesday, June 5, 2013 by
Bill Salus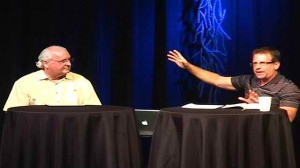 On May 26, 2013 Bill was invited to answer Bible prophecy questions presented to him by Pastor Tom Hughes of Calvary Chapel 412 Church in San Jacinto. You are invited to watch Pastor Tom and Bill's discussion. Some of the questions they address are listed below:
1. Is the new Pope a universalist?
2. Is America's government turning into Big Brother?
3. Is Psalm 83 imminent?
4. Is a confrontation between Israel and Syria coming soon?
5. What are the 6 things that needed to exist in order for Psalm 83 to find fulfillment?
Click HERE to watch Pastor Tom's and Bill's interview.