on Saturday, May 31, 2014 by
Bill Salus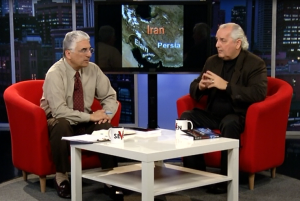 This video is part two of two that was filmed in the studios of Iran Alive Ministries. Hormoz Shariat, the founder of Iran Alive and the host of the TV show, interviewed Bill Salus in April, 2014, about the prophecies of Elam (Iran) and the Rapture of the Christian Church.
Many Iranian Christians hope that the prophecy of Elam in Jeremiah 49:34-39 will enable them to escape from Iran. Hormoz Shariat and Bill Salus explain why the Rapture is their best exit strategy through faith in Jesus Christ!
Jeremiah's prophecy concerning Elam predicts a disaster that forces many Iranians into exile, but the Rapture leaves no refugees behind. All who believe in Christ will be caught up into the clouds in the twinkling of an eye in the Rapture.
Salus teaches in English, while Shariat translates into Farsi. Millions of Farsi speaking peoples in Iran, Afghanistan and Tajikistan watched this program. These three countries rank in the top 10 of the countries that are currently experiencing a per capita boom in Christian conversions. Iran is #1, Afghanistan #2, and Tajikistan is #10. Bible prophecy expert calls Hormoz Shariat the "Billy Graham of Iran."

Click HERE to watch Part one "Iranians Learn Bible Prophecies (Psalm 83 and Ezekiel 38)