on Monday, April 14, 2014 by
Bill Salus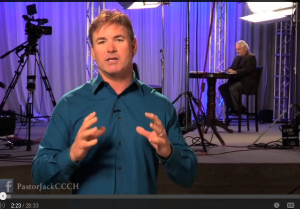 Do the coming blood moons signal the imminent return of Jesus Christ for His Church? The Rapture is a sign-less event, but the blood moons are appearing on heaven's billboards and the world stage is set for Christ's return to fetch His Christian Bride.
Real Life TV, hosted by Pastor Jack Hibbs, interviews Bill Salus about the coming blood red moons in possible correlation with the concluding Arab-Israeli war described in the ancient prophecy of Psalm 83. This timely two part interview emphasizes the importance for unbelievers to consider Jesus Christ as their personal Lord and Savior in light of these upcoming events.
Israel, what about Israel? Pastor Hibbs asks Bill why the creation of Israel is important for people to understand. Pastor Jack and Bill point out that today's Israel exists in fulfillment of numerous Bible prophecies. In fact, the creation of the Jewish state is a bigger miracle than the parting of the Red Seas described in Exodus 14.
"Therefore, behold, the days are coming," says the LORD, "that they shall no longer say, 'As the LORD lives who brought up the children of Israel from the land of Egypt,' but, 'As the LORD lives who brought up and led the descendants of the house of Israel from the north country and from all the countries where I had driven them.' And they shall dwell in their own land." (Jeremiah 23:7-8, NKJV)… Click HERE to read Bill's article about the importance of Israel today.
___________________________________________________________________________________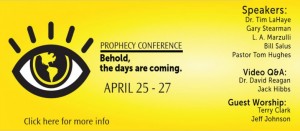 Come hear Bill Salus, Pastor Jack Hibbs, Dr. Tim LaHaye and many more at the "Behold the Days are Coming" Prophecy Conference April 25-27, 2014.
Discover how all the end time's Bible prophecies are converging presently. Find out how these predicted events will affect you! Learn how to prepare for the turbulent times ahead. Understand how Jesus Christ is our blessed hope now and forever!
Click HERE for more information.
___________________________________________________________________________________
Jack Hibbs pastors a church of about 18,000 members at Calvary Chapel Chino Hills. Pastor Hibbs is one of Calvary Chapel's top Bible prophecy experts. He recently featured Bill's book, Psalm 83: The Missing Prophecy Revealed, How Israel Becomes the Next Mideast Superpower, at his church.
Click HERE to visit the Real Life with Jack Hibbs TV website.
Watch the two part interviews on YouTube below.