on Tuesday, October 6, 2020 by
Bill Salus
This article is taken from the book entitled, The FINAL Prophecies, The Prophecies in the Last 3 1/2 Years of the Tribulation.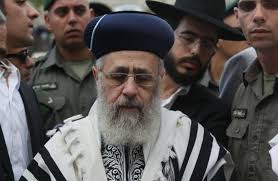 Some believe that the False Prophet will be a Jew. This thinking primarily stems from Revelation 13:1, which says the Antichrist rises out of the sea, but in Rev. 13:11, we learn that the False Prophet comes out of the earth. In biblical symbolisms, the sea can represent the Gentile world, but the earth often refers to the land of Israel. The simple logic is, that if the earth represents Israel, then the False Prophet must be a Jew. Some even take this thinking a step further to suggest that the Jews will believe that the False Prophet is their Messiah.
The problem with a Jewish Rabbi being the False Prophet, is that the Antichrist will be committing Jewish genocide as per Zechariah 13:8. As such, all smart Jews and Rabbis will be running for their lives, rather than running for the office of the False Prophet. In a chapter of my FINAL Prophecies book entitled, The War in Heaven, I point out that part of Satan's end time strategy is to kill all Jews because even a single Jew can fulfill the mandate of Christ's return in Matthew 23:39.
Also, is it reasonable to believe that a Jewish religious leader will encourage his own people to worship a man as god, which is what the Antichrist requires? To do so would be in strict violation of the First Commandment, which warns; "Thou shalt have no other gods before me." Moreover, if the Jews refuse to worship the Antichrist, is it feasible that a Rabbi would endorse the wholesale slaughter of the entire Jewish race, which is another thing the Antichrist requires?
I don't personally believe that any Jew will be offered the Mark of the Beast in Rev. 13:16, which would enable that Jew to be included in the global economy of the Antichrist. By recollection, I think that I first heard this view from Dr. Arnold Fruchtenbaum of Ariel Ministries. It is my belief that when the False Prophet emerges, every Jew in the world will have a bounty placed upon their head and a bullseye target located on their back. They will all, including the False Prophet if he were a Jew, be marked for death, and not marked for participating in the global economy.
WATCH THE FINAL PROPHECIES TRAILER BELOW
VIST THIS LINK TO BUY THE FINAL PROPHECIES BOOK, DVD OR THE ENTIRE BOOK AND DVD SERIES.