on Sunday, July 22, 2012 by
Bill Salus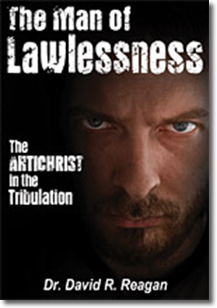 Prophecy Update Radio presents a three part program that provides Bill's answers to Dr. David Reagan's tough Bible prophecy questions. Dr. Reagan invited Bill Salus to participate a second time in his "Signs of the Times" – prophetic forum. The first forum featured in Dr. Reagan's book entitled "The Man of Lawlessness, The Antichrist in the Tribulation," included the panelists below:
Daymond Duck, Gary Fisher, Gary Frazier, Dr. Arnold Fruchtenbaum, Ray Gano, Phillip Goodman, Al Gist, Ed Hindson, Dr. Mark Hitchcock, David Hocking, Dave Hunt, Noah Hutchings, Terry James, Nathan Jones, Tim LaHaye, Carol Matrisciana, Don McGee, Chuck Missler, Don Perkins, Dr. Ron Rhodes, Bill Salus, and Todd Strandberg. The panelists bios are listed alongside their pictures inside the book on pages 44-49.
In this three part Prophecy Update Radio program Bill answers over the airwaves the following questions.
1) Do you believe we are living in the season of the Lord's return, and if so, why?
2) What do you consider to be the single most important sign of the times, and why?
3) What do you consider to be the second most important sign, and why?
4) How do you interpret Matthew 24:32-35?
5) How do you interpret Daniel 12:4?
6) How do you interpret Daniel 12:8-9?
7) Do you believe God is speaking today through signs of nature? Explain your answer.
8) What do you consider to be the most important technological development from an end time prophetic viewpoint? And why?
9) Do you believe the development of the European Union is a fulfillment of end time prophecy?
10) Do you believe there are signs of the times that are unique to our day?
11) The Bible speaks of spiritual signs of the end times, both positive and negative in nature. Which do you consider to be the most important and why?
Prophecy Depot Ministries has posted Bill's answers to all the above questions in a written format at the links below. However, we invite you to listen to this three part radio program because it contains more prophetic details that were not included in the written responses.
LISTEN TO Signs of the Times Prophetic Forum – by Dr. David Reagan Part 1
LISTEN TO Signs of the Times Prophetic Forum – by Dr. David Reagan Part 2
LISTEN TO Signs of the Times Prophetic Forum – by Dr. David Reagan Part 3
Below are the written expositions to these questions:
Signs of the Times Prophetic Forum – by Dr. David Reagan Part 1
Signs of the Times Prophetic Forum – by Dr. David Reagan Part 2