on Saturday, August 16, 2014 by
Bill Salus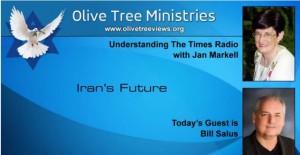 Jan Markell, the host of Understanding the Times radio, which is heard by over 650 radio stations in the U.S., interviews Bible prophecy expert Bill Salus. Markell and Salus discuss the coming Middle East showdowns alluded to in the prophecies of Jeremiah 49:34-39 and Psalm 83.
Jeremiah 49:34-39 is the subject of Bill's new book entitled, Nuclear Showdown in Iran, Revealing the Ancient Prophecy of Elam. The prophecy of Elam has been vastly overlooked, but appears to be a biblical prediction for the present generation. As the title of Bill's book depicts, the prophecy of Elam could be dealing with Iran's dangerous developing nuclear program.
CLICK HERE TO WATCH THE VIDEOS: PROPHECY SHOCKER! 2600 YEAR OLD PREDICTION COMES TO LIGHT!
CLICK HERE TO WATCH THE NUCLEAR SHOWDOWN IN IRAN BOOK TRAILER…

Psalm 83 was another forgotten prophecy until Salus rekindled interest in the prophecy in his 2013 book titled, Psalm 83: The Missing Prophecy Revealed, How Israel Becomes the Next Mideast Superpower.
Markell and Salus present persuasive arguments that both Jeremiah 49:34-39 and Psalm 83 could be considered imminent threats in the Middle East.
LISTEN TO THE SHOWS ON YOUTUBE BELOW…